La Costa Canyon cross country girls and boys teams win championships
Led by a junior phenom in the girls' race and pair of twin aces on the boys' side, La Costa Canyon rambled to dual Avocado League West cross country championships Saturday, Nov. 11, at Escondido's Kit Carson Park. The overall event, the North County Conference Championships, featured boys' and girls' championship races for four leagues, including the Avocado League West runs which were both captured for the fourth straight year by Coach Bill Vice's Maverick teams.
In the girls' competition, LCC scored a nearly unbeatable 26 points to easily out-distance second place Canyon Crest Academy (55 pts.). The top two were followed by Sage Creek (63) and Torrey Pines (73). It was the eighth straight league title for the Maverick girls.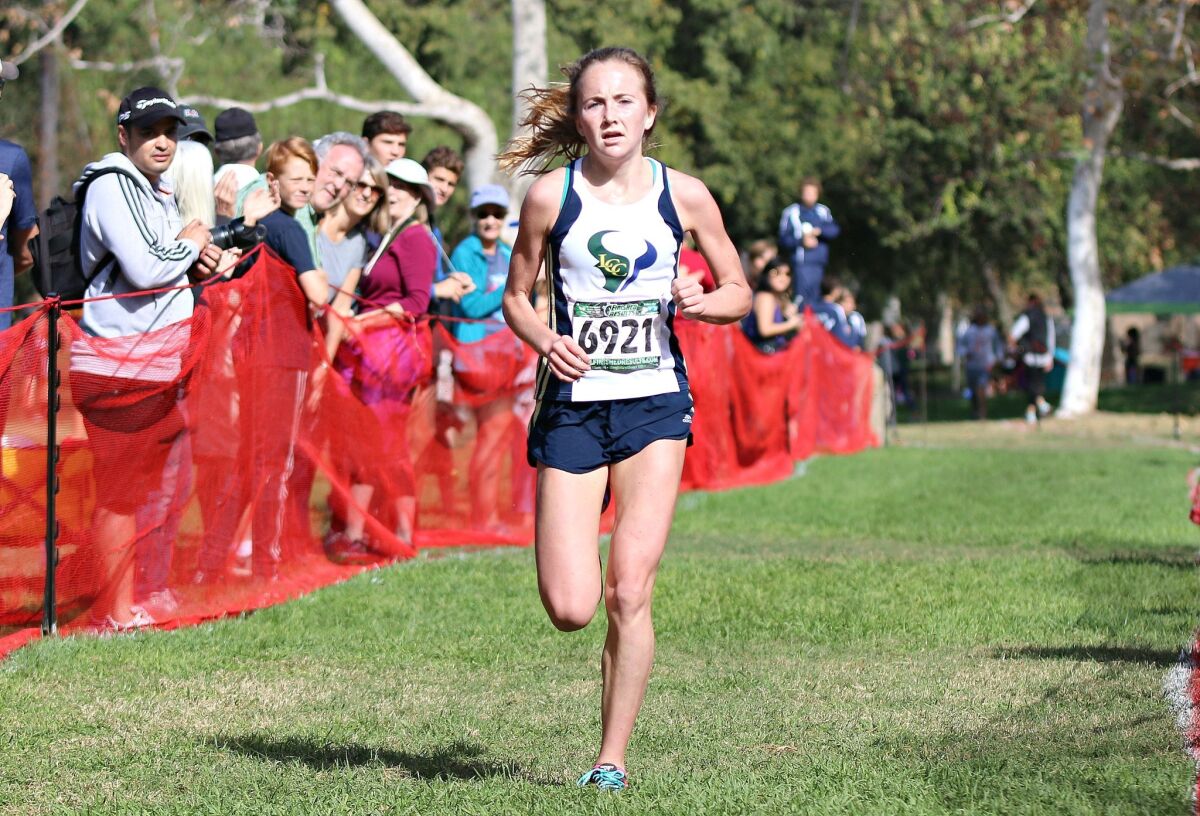 Not surprisingly, individual accolades went to defending champion Kristin Fahy from La Costa Canyon who covered the 3.05-mile Kit Carson layout in 17:36.6. She bested junior teammate Jessica Riedman, the runner-up, by more than a minute.
Maverick senior McKenna Brown, the 2014 winner of this race but still rounding into top shape after a pre-season injury, was fourth with Canyon Crest's talented sophomore Carlie Dorestkar sandwiched between Riedman and Brown in third. LCC freshman Sydney Weaber, running what Vice called "a great race," came home seventh.
"Our top three are in good form," said Vice. "When Kristin asked what the plan was, I told her 'win.' We do want to save a little bit with other championship weekends on the horizon but the competition was very good this year. We knew the Canyon Crest girls were very deep and we would have to go after them."
Fahy's time was the fastest of the day among the four girls' divisions, earning her an award named after longtime Fallbrook head coach Marty Hauck.
It was a tighter battle for the La Costa Canyon boys who finished with 42 points, giving them a 14-pt. margin over second place Torrey Pines. Canyon Crest (62 pts.) and Sage Creek (104) rounded out the top four. It was the Mavericks' sixth crown in the last seven years.
Junior identical twins, Garrett and Jacob Stanford, cruised to a 1-2 finish in the boys' race. Running in their traditional tandem, they jumped into the lead early and built a sizable advantage before throttling things down the last mile or so. Garrett hit the finish line in 16:18.1, three seconds faster than his brother.
The Torrey Pines duo of Travis Hellenkamp (16:46.2) and Robert Bartsch grabbed third and fourth, followed by the Sage Creek twosome of Brad Nelson (16:57.1) and Justin Morris in the next two slots. Tobias Fischer (17:01.9) and Ethan Lee-Bellows of CCA were seventh and eighth.
Vice was pleased with the Stanfords' performance but equally enthused about the development on the rest of the roster.
"Garrett and Jacob have been solid all year and we knew that if they ran their race, they would finish 1-2," said Vice. "But the other boys were fighting for a spot in the top seven which is all we can enter in the upcoming CIF Championships. A nice surprise has been Andy Pueschel. He's been our No. 3 the last few weeks. We knew he would be good but to have him finish ninth overall here as a sophomore was a big help for us in the team standings. "
The Mavericks fourth scorer was Gavin Aleshire in 13th place and an "x" factor in the next few weeks could be junior Elias Warren. Coming off the flu Warren was well down the line in Escondido but, if ready, could have been a top 10 finisher according to Vice, who while happy with Saturday's racing, knows there is more ahead for his squad.
"This was not our ultimate goal, it was an important event for us," said the 20-year LCC mentor afterward. "You're always honored when you can earn a league championship."We talk a lot about taking one thing at a time and this was a step. We achieved our first goal. I told them to enjoy it and Monday we'll talk about our next step, the CIF Championships."
And that is set for Saturday, Nov. 18, at Balboa Park's Morley Field. Based on enrollment, LCC will be in the Division III races where the gun will sound for the boys at 11:15 a.m. and the girls at 12:50 p.m.. Both will run 2.95 miles, the boys distance having been slightly reduced and the girls extended so that they will be equivalent. The course is mainly grass with some dirt and one significant incline. The La Costa Canyon girls are three-time defending CIF champs while the boys have won the last two years. Vice sees both right at the top of the heap again.
"It's one of our goals—to win CIF," says Vice. "The main competition on both sides should be Cathedral Catholic. Our best runners will be near the front and we have good depth. Individually, Kristin should be favored to win but the Stanfords will have their hands full.
"The kid from Cathedral, Joaquin Martinez de Pinillos, is really special. They met earlier at this year's Mt. SAC Invitational (where LCC was fourth and Cathedral ninth in the D-III Sweepstakes race) and he won going away with the Stanfords fourth and fifth. Anything can happen though and those two are great competitors."
The top three boys' teams and top four girls' teams at the CIF meet will advance to the California State Meet, which will be held, Saturday, Nov. 25 at Fresno's Woodward Park.
Sign up for the Encinitas Advocate newsletter
Top stories from Encinitas every Friday for free.
You may occasionally receive promotional content from the Encinitas Advocate.