LCC cross country boys and girls teams win titles at CIF Division III Championships
You could call it a three-peat times two for La Costa Canyon Cross Country Saturday, Nov. 18, at San Diego's Morley Field. Coach Bill Vice's boys and girls teams won dual titles at the CIF Division III Championships for the third consecutive year, putting on a tour de force of both top end talent and depth.
In warm, sunny conditions on a re-worked 2.96 mile course, Vice's boys' team got the day off on the right foot. Riding the front-running identical twin duo of Jacob and Garrett Stanford, the Mavericks posted a 48-pt. cushion over second place Cathedral Catholic. The two juniors finished second (Jacob-15:20.2) and third (Garrett-15:21.4) respectively behind Cathedral's senior standout Joaquin Martinez de Pinillos, who hit the tape in 15:03.5, his latest in a string of impressive performances. Although things didn't go exactly as planned, the Stanfords were satisfied with the outcome.
"Our initial plan was to try to stick with him (Martinez) as long as possible, but we ended up changing our plan when he went out so fast early," said Garrett Stanford. "We decided, 'let's just stick together and really push it.'"
Jacob Stanford added, "We know if we ride him the first part of the race, it's going to be difficult for anyone else to catch us. Plus, we're definitely better running together. He's (Garrett) a good source of motivation on top of just having someone to run with."
Vice, although pleased with the race run by his aces, was equally ecstatic about the rest of his squad. "Andy Pueschel (8th-16:18.8) is having a great sophomore year and just keeps coming on," said Vice. "Our seniors were outstanding. Gavin Aleshire (16:25.5) ran his best race of the year and Josh Cullins (17:06.0) just ran nails—he didn't give up any spots in the last quarter mile.
"And our No. 6 man, sophomore Asher Savage (17:36.0) beat Cathedral's No. 5—when that happens, it's good."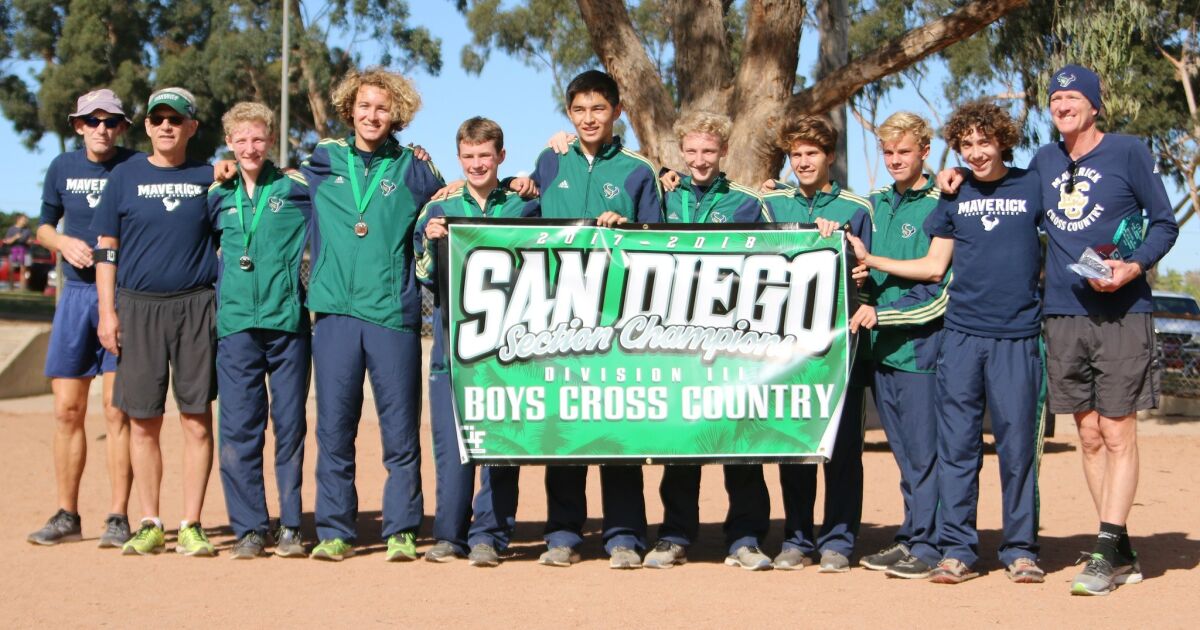 On the girls' side, La Costa Canyon came in as the favorite and ran like it. As expected, junior Kristin Fahy put early distance between herself and the rest of the field and continued to pull away, posting the fastest time (17:10.7) of any girls' division winner. As a team, the Mavericks were equally dominant, putting all five scorers in the top 12 and finishing with 25 points. Runner-up University City had 74 and third place Cathedral Catholic 93. Fahy's mind was on running a smart race.
"This is really an important step for me, but I was more focused on place than getting a really fast time," said Fahy after winning by a comfortable 53-second margin over second place senior teammate McKenna Brown. "I knew I had another race in me (the California State Meet), so I was happy where I ended up and glad my teammates were right behind me."
Following Brown home were junior Jessica Riedman (3rd-18:08.1), freshman Sydney Weaber (8th-19:14.8) and junior Natalie Schroeder (12th-19:29.0). Like his star, Vice was looking ahead once LCC's latest title was in hand.
"We really wanted to just kind of get the job done, stay away from injuries and move forward," said Vice. "It was good to see them be able to score the way they did today. We liked the course and it's the same kind of course we'll see at the State Meet next week."
For Brown, the win was special on several accounts. "I just feel fortunate that I'm able to be here with the team," said Brown, who injured her ankle on a run a few weeks back. "I thought my season was done when that happened. Being able to come back and feel like I'm peaking at the right time is amazing." She is also the only member of the team who has been part of all of title teams during the Mavericks' current four-year run.
"I'm really excited about winning another CIF title," smiled Brown. "It's crazy, seeing how far we've come. The is a young team and for me, it's great being a senior, having that experience and being able to help out the younger runners." As her final CIF race came to a conclusion Saturday, Brown was faced with a unique dilemma in regard to doing just that.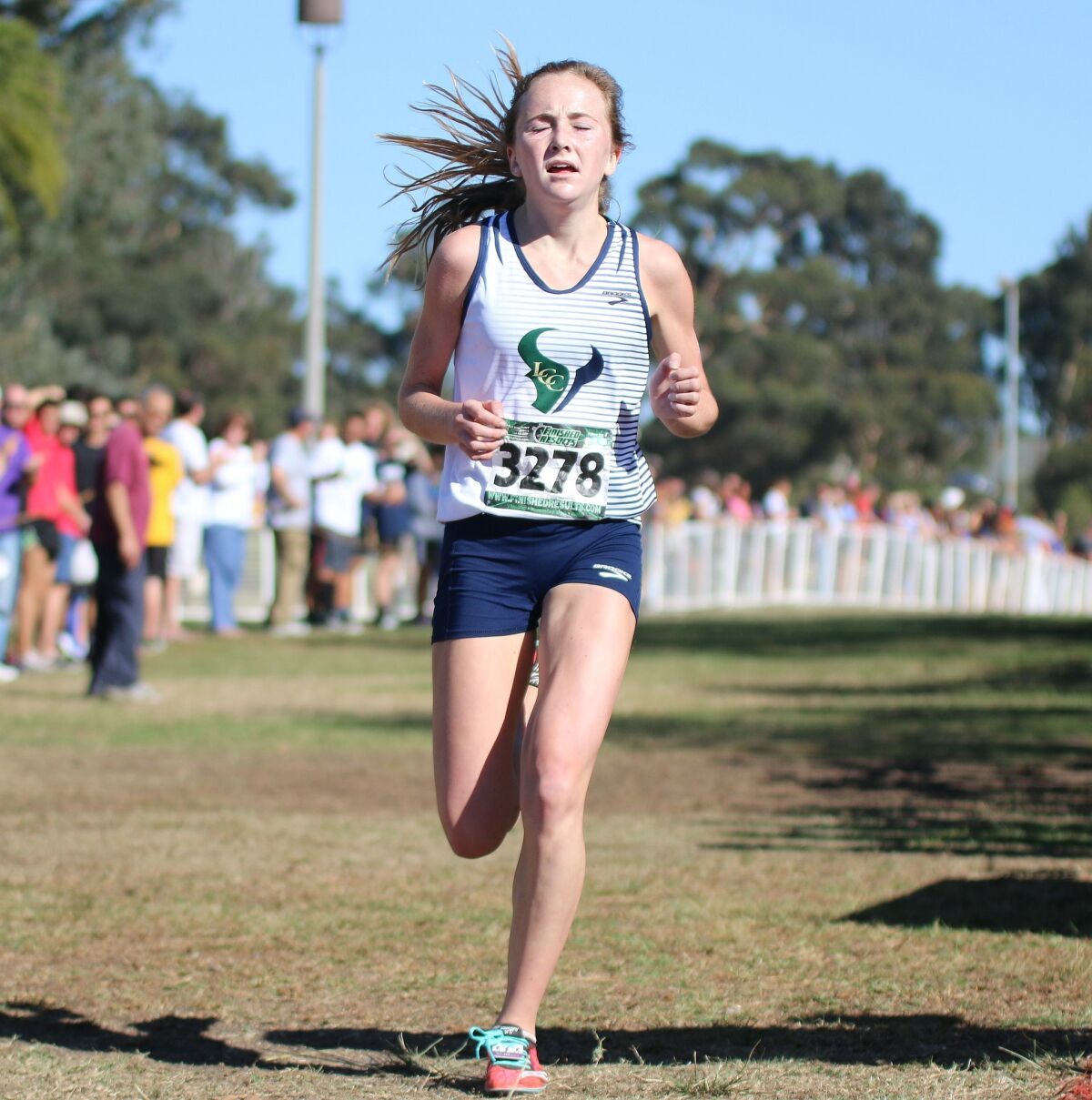 Riedman, running second at the time, hit the proverbial wall as a combination of the heat and effort caused her to wobble and fall twice in the final 50 yards. For Brown, in close pursuit, it was a jarring visual.
"My initial reaction was that I wanted to help her—when you see your teammate fall, you want to do something," recalled Brown. "But I knew if I helped her, we'd both be disqualified, I couldn't risk that." Fortunately, a determined Riedman was able to get back to her feet and will herself over the final few yards to the finish line in third place.
"I'm just so happy she was OK and able to finish," said Brown. "I have so much respect for her. It shows she really gave it her all. I don't think I could push myself to the point of collapse, but she's really tough."And so are the Mavericks—girls and boys—who left their coach in a thankful frame of mind.
"As I've said before, I'm always very humbled to come out here and watch our athletes compete the way they do against these great teams," said Vice. "We ran like a team today and they've done that all year. It's so cool to watch."
The Mavericks now head to Fresno this Saturday for the California State Cross Country Championships at Woodward Park. They will be among the Division III favorites.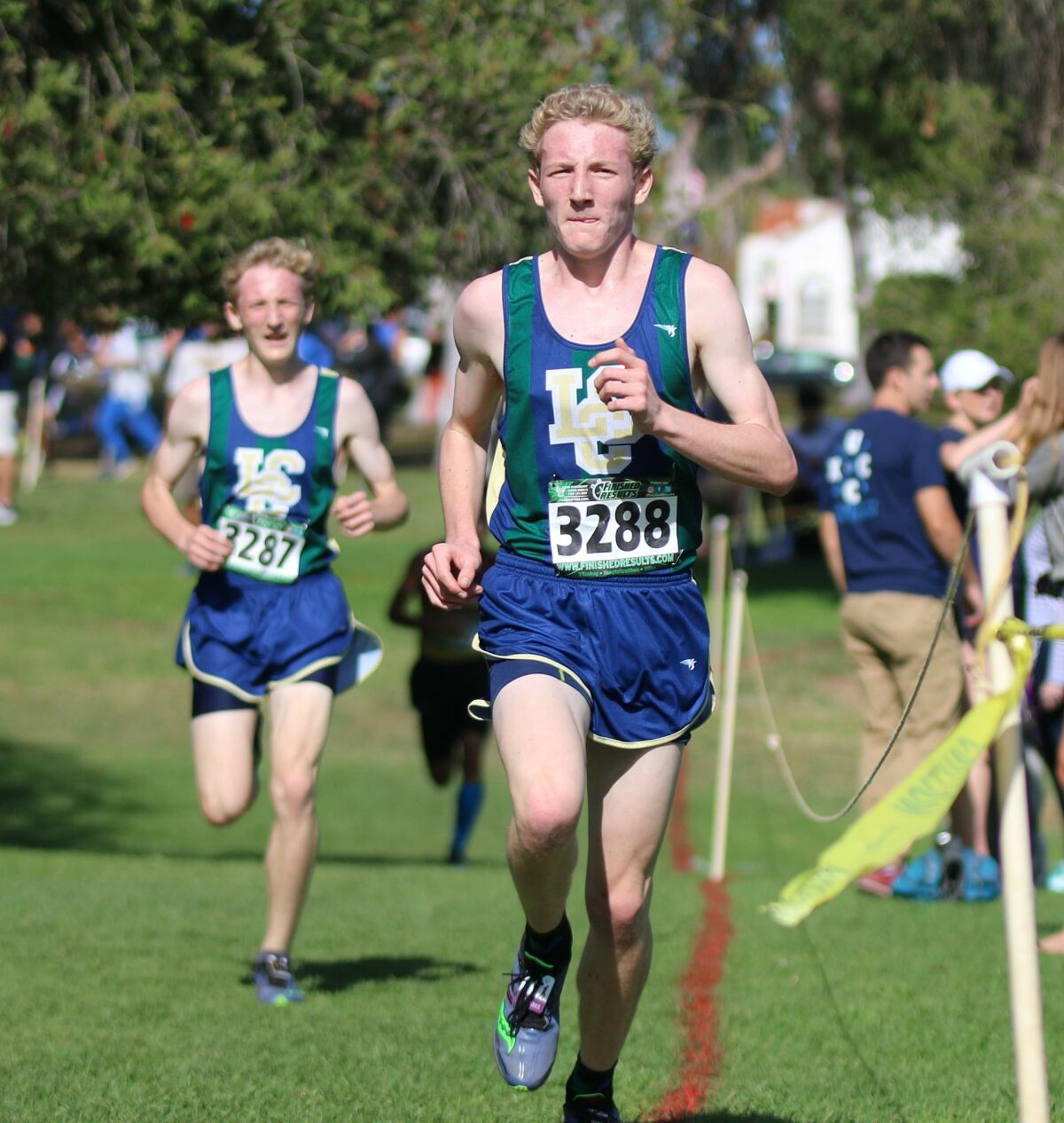 Local CIF Cross Country Notes
La Costa Canyon was not the only North Coastal school to experience success at the CIF meet. Sage Creek was "Maverick-like" in Division IV, sweeping both the boys' and girls' crowns with Skyler Wallace (18:31.6) capturing girls' individual honors.
The Bobcats' Brad Nelson, (16:09.3) was the boys' runner-up.
The Canyon Crest Academy girls were victorious in the Division I championship with Torrey Pines grabbing fourth. The Ravens were led by Carlie Dorostkar who claimed fourth place, clocking 18:13.5. In the boys' Division I competition, Torrey Pines was second and Canyon Crest Academy third.
All of those squads will be joining La Costa Canyon at the State Meet, as will the San Dieguito Academy boys who were fourth in the D-III race.
Sign up for the Encinitas Advocate newsletter
Top stories from Encinitas every Friday for free.
You may occasionally receive promotional content from the Encinitas Advocate.