Cross country success a team effort at La Costa Canyon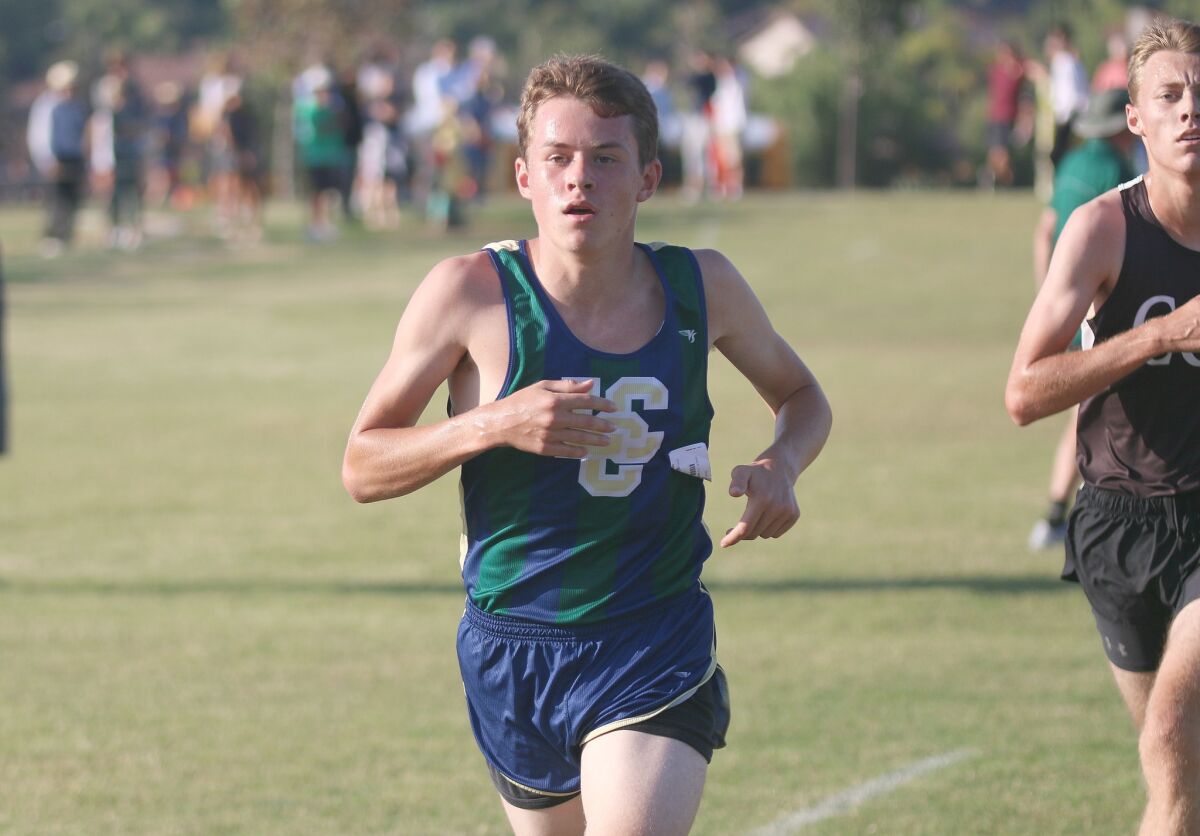 The top high school cross country teams naturally have many characteristics in common. Among them are top end talents, excellent depth, great coaching and a history of success. Another interesting quality is that the better they are, as they compete for league, section and state trophies, the more likely it is that runners flying under the average fan's radar are going to be vital to the team's overall success.
In San Diego, La Costa Canyon High School, under 22nd-year Head Coach Bill Vice, is a prime example. Defending CIF Division III champions (they will be competing at the Division II level this year) in both the girls and boys divisions, they have their sights set on not only doubling with league and CIF championships, but potentially challenging for state supremacy—a grand undertaking, no doubt, but one that's not wholly out of their reach.
The Maverick women, who were third at the CIF State Meet last fall and probably would have won it had an injury not forced star Kristin Fahy to drop out of the race while leading late, return not only two-time San Diego CIF individual title holder Fahy but fellow senior Jessica Riedman, who was third at last fall's CIF section meet and 16th in the State Meet. LCC's girls have been second five times at the all-California gathering so Vice & Co. also have some valuable experience on their side.
On the men's roster, Vice can call on not only the Stanford twins, Jacob and Garrett, fourth and fifth respectively in the 2017 State Division III State Meet where LCC wound up second, but junior Caleb Niednagel, a high profile transfer from Dana Hills High School who was 10th in the State at last year's D-I competition.
Those are names that have at least some familiarity to most distance running aficionados in North County. Beyond that, LCC is represented by a group that's recognizable to few outside of friends and family. Count Vice and his coaching counterparts among those who know not only the identities of these competitors but understand only too well the role they play in deciding whether a team is good or great.
Low score wins in cross country and in the CIF section and state meet, that's the top five finishers out of seven entries. In the league meet there will also be five scorers but teams can enter up to 12.
"You have your No. 1 and 2 runners, and if your fortunate, No. 3, who are right there in the front pack and you usually know what they're going to do and where they're going to place from race-to-race," said Vice. "But it's what your 3-4-5 runners do that often determines where you're going to finish.
"It's crucial to have all five runners in ahead of as many of the other teams' runners as possible. If you have a runner finish first, that's awesome, but if your fifth is in 100th place, that adds 100 points to your score — not great if you want to win.
"Those 4-5 and 6 runners need to be competitive and gutsy — they have to want to suffer for their team. What separates teams in many of the top-flight races is one or two people deciding they aren't going to lose."
For this year's Mavericks, two of those critical individuals are senior Natalie Schroeder and junior Andy Pueschel. The 5-foot-11 Schroeder, who recently committed to run next season at Cal State San Marcos, was LCC's fifth finisher while placing 12th at the San Diego CIF Championships and backed that up with 45th at the State Meet, the fourth Mav across the line. She didn't even start competing as a runner until her freshman year at LCC, but now, as a senior, Vice believes she has a special role in the program.
"With Natalie, it's always been a team thing," says Vice. "She's not typically in the limelight, but she's a huge part of our team. Her attitude and leadership are remarkable because she could be the No. 1 runner on any number of teams in San Diego."
Pueschel, a quiet, unassuming type, made a huge jump between his freshman and sophomore seasons. Eighth in CIF and 37th at State as a sophomore, he is now firmly entrenched as the squad's No. 4 runner while steadily working to narrow the gap between himself and the Stanford-Neidnagel troika. Vice, also a history teacher at LCC, describes Pueschel as a 'yeoman farmer.'
"Just like the yeoman farmer who was the backbone of early America, Andy embodies an unassuming work ethic with no flash, tons of heart and consistency," explained Vice. "He shows up every day and gets the job done.
"We talk a lot about the last mile being your best mile and he's a great example of that. You look at him and he's not real big and doesn't look like a physical threat but it's really neat to watch him run the second half of races — he starts to move up, run by people and lays it all out there."
With the cross country "championship season" fast approaching (see schedule below), Schroeder and Pueschel shared thoughts about their unique roles and the pressure that comes with them.
Q: Do you ever have any regrets about being a 'role player' on great teams?
SCHROEDER: Of course, sometimes I wish I would finish higher, but I feel I've regularly played a pretty important role on our team and always score. Our team is also a very close-knit group and we all respect everyone else's contributions.
PUESCHEL: I used to think about that but now I think more about how good the team is and understand that it's not about me but more about how good we are as a group. Sometimes, it's nice not having to be the top guy but knowing I still have an important role.
Q: What kind of relationship do you have with the top runners on your team and what have you gained by training and racing with them?
SCHROEDER: I'm friends with all of them and as I mentioned, we're very close. There are no cliques at all. Kristin and Jessica are always up near the front and having them out there is definitely beneficial to the rest of us. Every race Kristin is leading seems so much faster—it feels like she pulls us with her.
The workouts we do are good and hard with Kristin leading the pack. I think she's elevated us all.
PUESCHEL: We're all good friends and the Stanfords, in particular, have been really great teammates. They have always been there to motivate everyone and remind us about our goals.
Training and competing with that level of runners has definitely helped me a lot. Workouts wouldn't be as hard or productive if they weren't there. I've watched them and want to push myself like they do.
Q: What kind of pressure to you feel, knowing how much your performance can affect the team outcome?
SCHROEDER: I try not to put much pressure on myself. If I get too worked up, I feel it affects my performance negatively. Sometimes I do feel pressure, though, because I know from a team perspective, it does matter how well I do.
Coach is always out on the course helping, telling me where I am and who I need to catch or pass. I'm constantly thinking and it gets stuck in my head, 'I have to catch her' or 'I have to pass her.'
PUESCHEL: There really is a lot of pressure. I try to do what I can. During races, I'll find myself thinking about the impact and how our team depends on me. The top guys are up there scoring a lot of points and I fell like I should be able to do something to help out.
Q: Do you see yourself as a life-long runner?
SCHROEDER: For sure, I will continue to run. I'm interested in marathons and even ultra-marathons. I've done 13 miles and know I can go longer. I like the added distance, you have so much time in those races. Unlike the shorter races we run in high school, mentally, you have time to talk yourself back into it if something goes wrong. There's no giving up. I also like to run with music. It provides motivation and good vibes for me.
PUESCHEL: I hope to run in college and maybe beyond. It distracts me from other stuff. It's great to be around friends and practice is a nice break from school and homework. It gives me a chance to just rest my mind.
UPCOMING CROSS COUNTRY SCHEDULE:
 NCC League Championships – Saturday, Nov. 10 @ Guajome Park (Oceanside) – 8:30 a.m.
 CIF San Diego Championships – Saturday, Nov. 17 @ Morley Field (San Diego) – 8:30 a.m.
 CIF State Championships – Saturday, Nov. 24 @ Woodward Park (Fresno) - TBD
Sign up for the Encinitas Advocate newsletter
Top stories from Encinitas every Friday for free.
You may occasionally receive promotional content from the Encinitas Advocate.