No. 2 LCC stays undefeated with 41-21 win over El Camino
Riding back-to-back kickoff returns for touchdowns by each of the Lippert brothers (Karson and Aiden), the La Costa Canyon football team improved its record to 4-0 (2-0 in Avocado West League play) with a 41-21 home victory over El Camino Friday night.
For LCC, the game had the potential of being a bit of a trap. The Mavericks, undefeated and ranked No. 2 in the section, came in on the heels of a big, 38-35, road win against Orange County power San Clemente. El Camino, on the other hand, was routed in its last outing by Cathedral Catholic (a team LCC handled with relative ease in its opener) and entered the game off a bye week. Sovacool was pleased that his team earned the win but rated it a far-from-perfect performance.
"The effort was there but the execution was off at some moments," said Sovacool. "Part of that's a testament to El Camino. They came to play and we knew they weren't going to lay down. They had a rough go against Cathedral but had two weeks to get healthy and prepare. We knew they were going to be ready to roll but our kids got after it."
After a pair of first quarter Derek Miller field goals salvaged six points from stalled LCC drives, the Mavericks finally found the goal line with just over four minutes left in the first half. Linebacker Ozzie Nicholas put La Costa Canyon in position with an interception at the El Camino 28. Sophomore quarterback Marshall Eucker, back after two weeks on the sidelines, flipped a pass to Trent Dunn in the right flat and the senior took it eight yards, diving to the pylon to make it 13-0. El Camino, coached by Sovacool's college teammate Michael Hobbs, responded with its most impressive drive of the night (aided by a pair of key LCC penalties), capped by a two-yard Brock Manber QB keeper in the final minute of the half.
"I was disappointed in our red zone offense in the first half, you can't be settling for field goals or it's going to bite you in the butt," said Sovacool. "Last week we were 100% in the red zone and scored 38 points against a good San Clemente team. We could have separated this game earlier if we had been able to punch it in."
No need to fret about separation with the Lipperts on your roster. As soon as El Camino started to threaten, the fleet duo got its fireworks show going. Following the Wildcats' TD, senior Karson Lippert fielded the ensuing kickoff at the eight-yard line, found a lane on the right, bounced off a would-be tackler, cut back left and was off to the races, hitting the end zone 92 yards away and sending the Mavs into the locker room with a 20-7 advantage.
When the Wildcats' came out for the second half, kicker Zion Jackson prudently decided to keep the ball out of Karson Lippert's hands. Kicking to the opposite side of the field, his boot was hauled in by Karson's brother Aiden at the 20-yd. line. In the second half of a feat that seemed worthy of a Sports Center Top Play, the sophomore matched his brother, bolting through a huge gap, untouched up the right sideline for six points and all but wrapping up the outcome.
"We've never done something like that, so it was pretty cool," said Karson afterward when asked about the dual kick returns. "On Aiden's touchdown, I was blocking. I heard the crowd cheering, saw our guys running down the field and Aiden alone on the sideline. I was really excited and sprinted over there to congratulate him."
A two-yard run by senior Brett Maryon and another Eucker touchdown toss in the third period completed the scoring for LCC. Watching the Lipperts perform their magic may be old hat, but never gets old for Sovacool.
"I don't think they're human, you might want to check their DNA," joked Sovacool afterwards. "We call Karson 'Robot.' We might want to start calling Aiden 'alien.'
"Seriously, those guys are special. They're hard-working, humble and a complete pleasure to coach."
After the game (Karson) Lippert noted the multiple contributors to the victory and took a peek at the big picture for the Mavericks. "One thing I liked about tonight's game is how all of our touchdowns were scored by different players," he said. "We've got a lot of depth and it's great to spread the ball around, get everyone involved and have a great 'team' win like this.
"I think we're capable of winning a CIF championship, but it's all about getting better every single week and keeping our roster healthy. If we can do that, I think we'll have a good shot."
Next up for the Mavericks is Avo West foe Oceanside (1-2) which dropped a 49-42 shootout to San Marcos on August 31 and, like El Camino, will be facing LCC after a bye week. Kickoff is set for 7 p.m. at La Costa Canyon.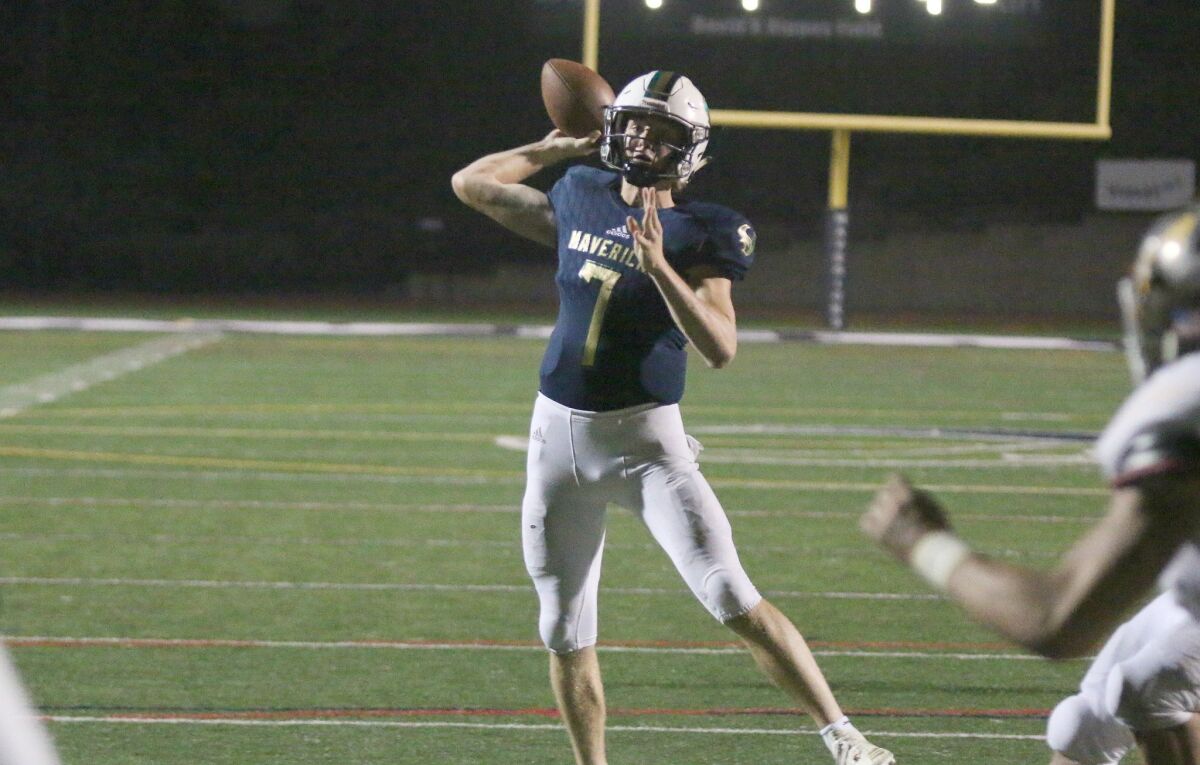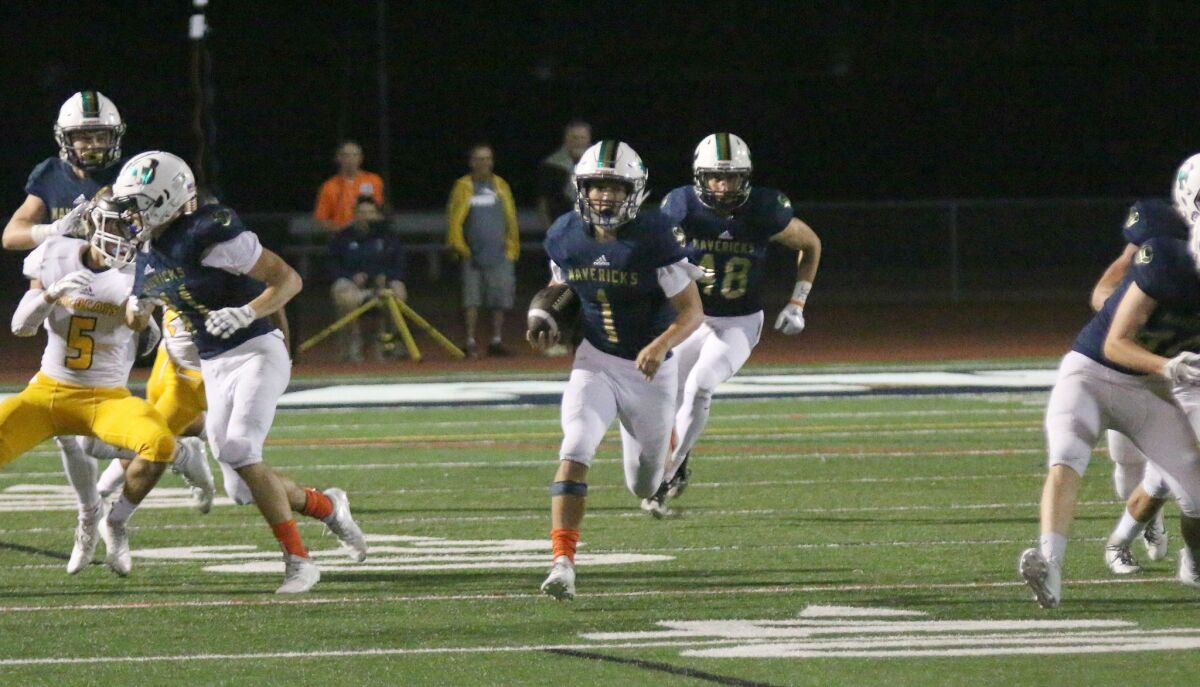 Sign up for the Encinitas Advocate newsletter
Top stories from Encinitas every Friday for free.
You may occasionally receive promotional content from the Encinitas Advocate.