LCC outlasts Santa Fe Christian in Top 10 volleyball clash
The No. 8-ranked La Costa Canyon girls volleyball team overcame a raucous crowd and stubborn host Santa Fe Christian to post a 3-1 (25-20, 25-23, 21-25, 27-25) victory Tuesday night, Sept. 11. The win pushed LCC to 3-2 on the season while the No. 9 Eagles dropped to 7-6.
Led by the clutch-hitting of junior Sophia Tulino, the Mavericks bounced back from a 19-15 deficit in the final set and first-year Head Coach Rachel Morris told her team the experience will pay dividends down the road.
"We talked in the huddle afterwards about how beneficial it is to play a match like this," said Morris. "Santa Fe Christian always has a really good team, does a great job of pulling together and fights to the end. They're super scrappy and do not let up at all.
"Having the opportunity to deal with adversity, not backing down and being able to push through against a team like this, in an environment like this is where I want my team to be."
Although the first two sets were competitive, LCC appeared to have a slight edge, particularly in the critical moments. A booming side out kill by Oregon-bound senior Morgan Lewis put the Mavericks up 16-14 in game No. 1 and senior setter Caitlin Kikta followed by serving three consecutive points to break it open. SFC was up, 21-19, in the second set but two aces by junior Alex Lougeay knotted the score and the Mavs scored the last two points when it was 23 apiece.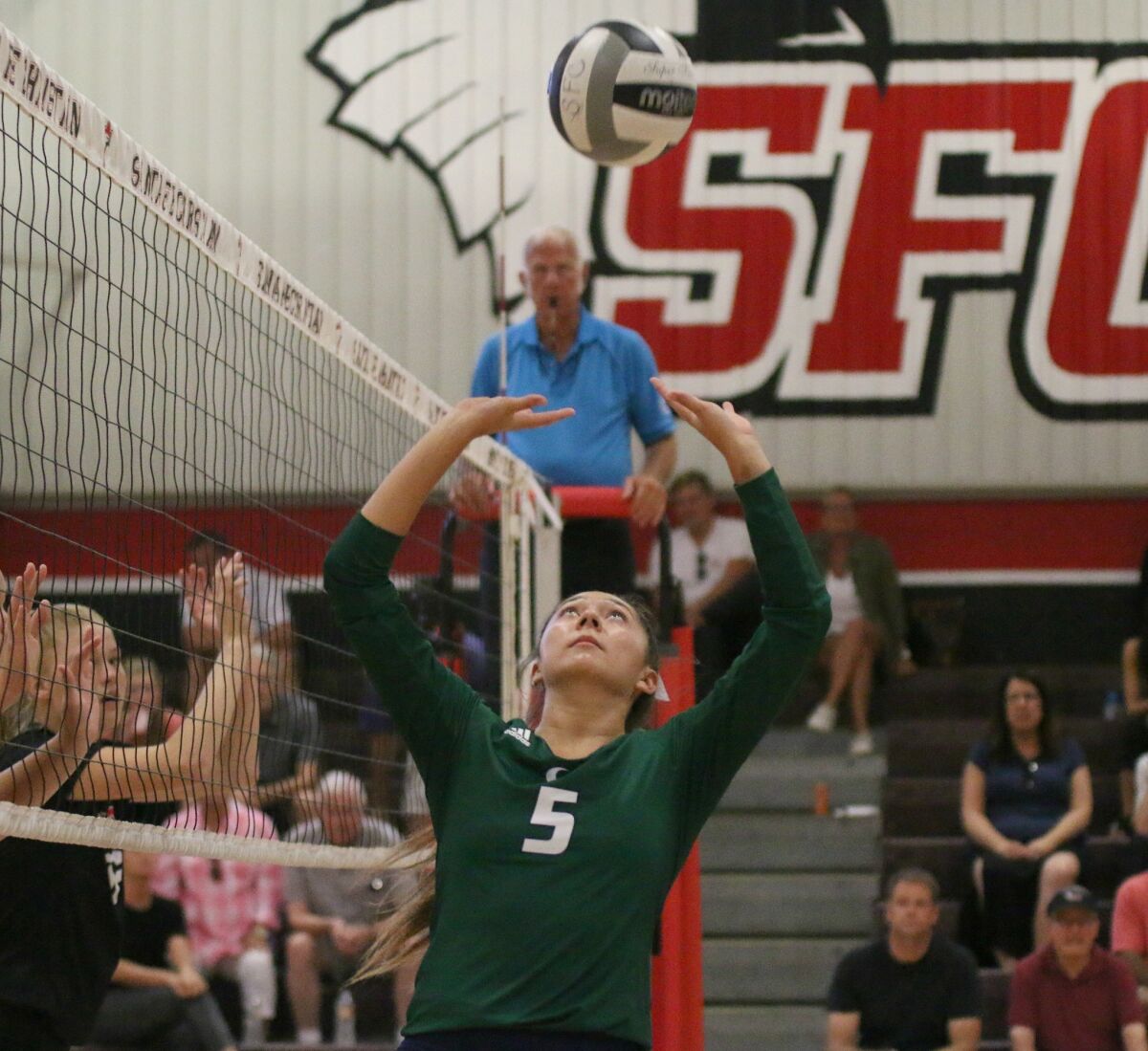 Initially, a similar storyline developed in the third game. Coach Amanda Miles' Eagles were down early but fought back to lead, 11-9. The Mavericks rifled off five points in a row to forge a 15-10 advantage and seemed ready to head home with a shutout. But Santa Fe Christian refused to go down and suddenly, when they tied it at 20, the wheels starting coming off for LCC. Two defensive lapses made it 22-20 SFC and Morris's club couldn't get it turned around. SFC's 24th point came on a block of Lewis just inside the right antenna and the Eagles, as well as their fans, were starting to believe. They continued to roll in the fourth set and down, 6-4, Morris called a key timeout.
"We started making a ton of errors late in the third set which in uncharacteristic of us and I think their crowd kind of rattled us a little bit," said Morris. "We took that early timeout in the last game, talked about just playing steady and taking it one play at a time. It ended up working out for us." Not without a struggle though.
LCC pulled ahead, 8-7, but Santa Fe Christian won a marathon rally to equalize and with its newfound confidence was swinging freely, making big defensive plays and seemingly getting the breaks to fall their way. But, up 19-15, just when the Eagles got on the verge of forcing a fifth set, the Mavs found their footing. Although the 6-foot-3 Lewis had a game high 17 kills, it was Tulino who took charge down the stretch as LCC showed its grit, tallying six of the next eight points to deadlock the score at 21. She got the last of her 11 kills at 26-25 to clinch the decision.
"Sophia is one of our captains and does a really good job of pulling the team together," said Morris. "She's constantly talking, bringing people in and taking big swings when we need them taken, particularly in pressure spots." Tulino called the triumph a team effort.
"I think we tensed up a little bit and when that happens, you sometimes start playing as individuals instead of as a team," said Tulino. "Playing together is really important and I think that's what were missing when we lost some of our momentum.
"I tried to remind everyone that we needed to go all out, no matter what the score is, no matter what's happening on the court or what their student section is doing. If we continued to fight hard and grind, we'd get the win."
On the SFC side, Miles was disappointed with the outcome but pleased with the effort and resolve of her squad. "We were right in there the first two sets and talked about just staying aggressive and continuing to play our game," said Miles. "All of our seniors played well and showed a lot of leadership. That was an incredible game between two very good teams." Senior Sara Jones led SFC 12 kills and sophomore Zoe Marshall chipped in with 10.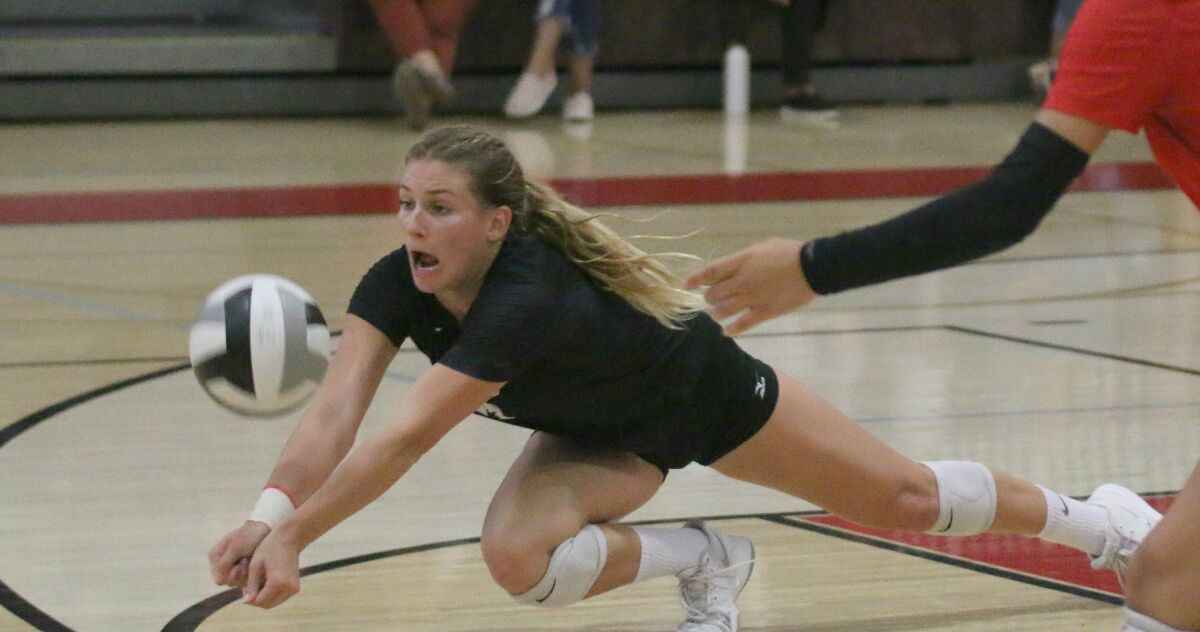 Sign up for the Encinitas Advocate newsletter
Top stories from Encinitas every Friday for free.
You may occasionally receive promotional content from the Encinitas Advocate.