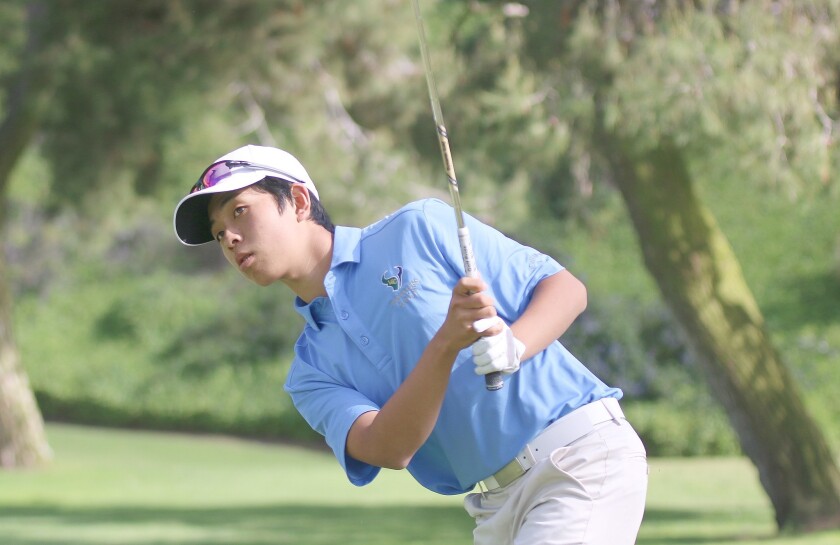 For someone who claims that he's not very "interesting," rising La Costa Canyon senior golfer Kento Yamawaki has a summer schedule that most high schoolers would only dream about. The Encinitas resident, who has finished second, first and third at San Diego's CIF Golf Championships in his first three years at the Carlsbad school, teed off on the "summer of 2018" by shooting the low score (66) at the U.S Junior Golf Qualifier hosted by Tucson Country Club, shortly after the LCC prep season had finished. That performance landed him a coveted slot in the July 16-21 U.S. Junior Amateur Championship at the prestigious Baltusrol Golf Club in Springfield, NJ.—an event whose list of past winners includes Tiger Woods and Jordan Spieth. And that was just the beginning.
One day after school ended at La Costa Canyon, Yamawaki was on a plane to Chicago for the Western Juniors. Two weeks later, he placed ninth out of 54 at the Polo Golf Junior Classic at Echo Lake Country Club in New Jersey and still on the slate before classes start in fall are the Junior America's Cup; a team play event in Montana; an American Junior Golf Assn. (AJGA) national event at Coto de Caza Country Club; a Ryder Cup format team tournament at Tome Country Club in Japan; and trip to Florida for the Junior Players Tournament at famed TPC Sawgrass, the same site as the PGA's Players Championship held each spring.
In between his crazy travel schedule, the Encinitas Advocate caught up with Yamawaki who shared thoughts on his current game, his golf aspirations and what he enjoys away from the sport.
Q: You placed third overall at the 2018 CIF Championships after winning the individual title as a sophomore, carding a solid seven-under for 36 holes at the Admiral Baker Golf Course but finishing well back of champion James Song from Torrey Pines who posted a pair of 63s. What kind of take did you have on your performance in that tournament?
YAMAWAKI: I played decent, but not my best. Obviously, I wanted to win but I liked seeing James play so well. It's what he does—he sometimes has days where he absolutely tears up the golf course. This time, he did it two days in a row—no one else had a chance.
Q: Right now, what would you consider the primary attributes of your game and where would you most like to see some improvement.
YAMAWAKI: I'd like to think my driving accuracy and short iron play are pretty good. As far as what I'd like to be better at—everything. I'm trying to improve my short game and putting but those are things you can never really perfect.
Q: How would you describe your playing style as far as approach to any given round?
YAMAWAKI: I'd say I'm pretty balanced most of the time. If I'm playing OK, I tend to be conservative but if I'm hitting the ball really well, I'll get more aggressive.
I think I have pretty good control of myself out there. I feel like it's OK to get mad right after you bogey a hole or something like that, but I've learned to let it go pretty quickly.
Q: You seem to be very "comfortable" and loose when you're playing. Is that a fair assessment and what kind of intensity and focus do you try to maintain?
YAMAWAKI: I wouldn't consider myself super-talkative or gregarious but I'm not the type of player who won't open his mouth the entire round either. I don't mind talking while walking between shots but once I get to my ball or reach a tee box and it's clear to play, I'm pretty good at focusing quickly. I can be ready right away and centered on what I need to do.
Q: What does your typical practice session look like?
YAMAWAKI: I like to play a lot as opposed to just hitting balls at targets on the driving range. That's my preference. I feel like you learn a lot more about your game, both good and bad, when you're out on the course in "real" situations.
I do different things that allow me to emphasize certain aspects of my game. Some days I'll just play with three clubs and a putter. Others, I might engage in match play with one of my friends. This summer, especially, I've been trying to work on my longer irons, hitting them higher and stopping shots on the greens more consistently. Overall, though, I'm just concentrating on being a better player.
Q: How and when did you get started in golf?
YAMAWAKI: My dad worked for a golf company. He started my older brother playing so I followed. My first experience with golf came when I was "3-ish"—with plastic clubs, of course. I remember practicing as a little kid at Morgan Run and I won my first tournament at 5. It was just a local event but I thought that was really cool.
Q: What do you see as far as your future in the game?
YAMAWAKI: Well, I still have one more high school season. After that, I will be going to Cal (UC Berkeley). I'm really excited about that. It felt like a perfect fit for me. The coaches were amazing and James (Song) will be starting there this year. He and I are friends so that will be a plus.
Eventually, I'd like to turn pro, play on the PGA Tour and do well there.
Q: What type of things do you enjoy outside of golf?
YAMAWAKI: Nothing special, I'm kind of a golf guy. I do like to hang out with friends. I don't surf but I like to relax at the beach and I play video games like Fortnite with friends—some are golfers and some aren't. I'm really pretty boring.
---