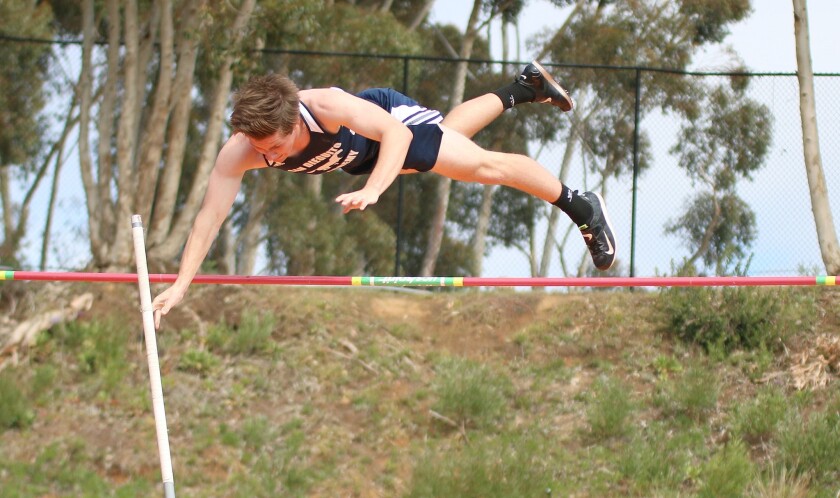 Because it doesn't have a swimming pool, San Dieguito Academy got itself a 16-foot pole vaulter—specifically senior Kevin Ward, who cleared a San Diego CIF and then state best 16-foot-1 at the recent Falcon Relays hosted by Torrey Pines High School.
Ward, whose original athletic passion was gymnastics, saw his 10-year career in that sport curtailed when he was 14 after cracking a vertebrae in his back. His bad fortune turned out to be a stroke of luck for the Mustang track & field team.
"I knew I wanted to do a sport in high school and thought it should be something related to gymnastics," said the 5-foot-7, 160-lb. Ward. "It kind of boiled down to diving or pole vault.
"I chose a school based on academics first and sports second. After I picked San Dieguito, I knew they didn't have a pool, so pole vaulting it was." And, as they say, the rest is history.
Despite having never previously attempted a vault, Ward posted a best of 11-foot-9 as a freshman and went more than a foot-and-a-half higher (13-6) as a sophomore. Then, after taking another quantum leap to 15-1 in the first meet as a junior, his progress was temporarily halted when he suffered a broken wrist the following week. Simply doing a warm-up run prior to an alumni meet, no pole in hand, he tripped and fell, landing on his wrist and essentially ending his season before it really got started.
"It was such a bummer, I was still living on the high of 15-1," recalls Ward. "Gymnasts are known for being extremely graceful when competing but very klutzy just walking around. I guess I proved that." Ward managed to bounce back in time for the end-of-the-year CIF Championships where he went 14-6 but the harsh lesson changed some of his carefree habits.
"Things I used to do all the time like throwing in back flips, jumping off things, I kind of shy away from," he said. "I have more apprehension about those now because I have experienced what it's like having it all taken away." That setback didn't stop Ward's progress from taking a decidedly upward trajectory.
In his first meet of 2018 at Mt. Carmel High School, barely three years into his pole vaulting life, the San Diego native now living in Solana Beach, soared 15-4 for a personal best. Two weeks later, he went nine inches higher to 16-1 and, no pun intended, the sky now seems to be the limit. Second-year SDA Head Coach Mike Fitchett, in his fifth season as the event coach for the pole vaulters, sees lots of reasons to like Ward's long term potential.
"Kevin's very fast and when we did our strength testing, his scores were the highest on the team, not just in the running and jumping areas but also in less obvious spots," said Fitchett who, ironically, earlier in his career as a head diving coach tutored 10 All-Americans at Clemson and four NCAA champions at UC San Diego. "For example, in overhead throws with a medicine ball, he was the highest scorer which shows how explosive he is.
"His technique is really good, he is a tough competitor and because of his gymnastics background, he's comfortable with all eyes on him. So, in a good way, I really have no idea how high he is capable of going."
With the dual meet segment of the season now in full swing and the Avocado League West and CIF Championships less than two months away, Ward took time to talk with the Encinitas Advocate about his meteoric rise in the pole vault, the scariest part of his event and what his future might hold.
Q—Gymnastics is not a typical sport for a four-year-old American boy. Why did you follow that path?
WARD—"Urban legend" says I was always climbing and jumping off things and my parents thought I might as well put my "talent" into some type of structured use. It is kind of an odd choice. Not many kids do gymnastics, especially boys, but I fell in love with it. I still go back all the time to the Carlsbad YMCA and actually work there.
Q—How difficult was it to become a pole vaulter?
WARD—There was a big learning curve. You have to do a lot of ground drills and sand pit drills before you ever get into the pit with a pole. I put in a solid month and a half doing things like learning what side of my body to carry the pole, where to hold it, getting the knee driving and working in a long jump pit jumping little barriers just trying to get my feet over.
Then, you move to the pit where you have the actual box and start trying to get the plant right and your feet up. Every day along the way you just want to get into the pit but over the years, when you break it back down, you realize how much the early work set you up to be able to put it all together.
Q—For the layman, can you tell us about the vaulting process?
WARD—I have about an 85-foot approach which is 14 steps, but there are good vaulters who start anywhere from 60 to 120 feet from the box. You finish your run at pretty much full speed, drop your pole and plant it in the box. You then kick your feet forward and turn yourself around. Next is the inversion, which is the hardest, most technical part of the vault and it's what eventually brings you success.
Ideally, you get upside down while the pole is still bent from the force of hitting the box. There are a few other positioning things to do but if you're inverted and the pole is bent, what happens is that it "unbends" and shoots you straight up—then all you have to do is ride and pike over the bar.
Q—What type of adrenaline rush do you get at 16-feet-1 inch?
WARD—It's gnarly. A big part of the sport is learning to control your adrenaline because your last step has to be in the same place every time. If your adrenaline gets pumping too much, you're going to run faster and longer and it's going to mess up your last step, throwing off the whole thing. So you have to stay calm to keep your run together so it doesn't affect your vault.
As you get better and are jumping higher, you move up to a bigger pole and whenever you move up to a new pole that you've never been on before, the fear is intense—the fear of being "rejected" and thrown back onto the runway is there. Another big part of the sport is learning to control that fear and be confident that you're going to get in the box and get on the pole. The second you don't believe that you're going to be shot back onto the track. Pole vault is a big mental game.
Q—What's the worst "accident" you've ever had as a pole vaulter, aside from the broken wrist incident?
WARD—I've had many accidents and during the first year there were plenty of instances where I would go up and come back down on the track, miss the pit or land on the bar.
But the scariest is a broken pole. This summer, I snapped a pole mid-vault. I use a carbon fiber model now and they're not supposed to snap but they sometimes do and when they do snap, it's a lot more violently than a standard model. You generate a lot of force in the bend and when it snapped, the recoil snapped me from almost the middle of my back down my arm to just above the elbow and I had a huge welt. The sound was deafening and it definitely shook me up.
Of course, the coaches put me right back on it, the same day. If you don't vault again right away, you'll probably be scared forever.
Q—Coach Fitchett talks about the image of vaulters being kind of a wild and crazy group but says you have a more linear approach to the craft—taking information and applying it. How would you describe your vaulting style?
WARD—Very acrobatic. Not so much strength-oriented but optimizing every inch I can get out of the pole. I try to really focus on jumping and taking off to make up for the lack of height. My strength is definitely my speed and "bar awareness"—being able to know where the bar is and manipulating my body in the air as much as I can to avoid it.
Q—What's going through your mind when you're taking those 14 steps on the runway?
WARD—I typically like to focus on one thing because it's really difficult to have three-or-four things going through your mind while you're sprinting, holding a pole and trying to throw yourself upside down and over a bar.
I like to think about everything in practice and drill, drill, drill then so I don't have to think about it on meet day. At the meet, if there's something that I'm not quite doing right, I will kind of repeat it over and over going down the runway but as soon as there's two or three of those things in your head, none of them happen and the vault is only worse.
Q—What type of short and long-term goals do you have with your sport?
WARD—My goal for this year was 16 feet before the meet at Torrey Pines, but you have to constantly re-evaluate your goals. I think 17 feet is the ultimate, end-of-the-season goal—that's a huge number. Right now, I just want to keep things going. After you hit a peak, you're trying not to come back down but to maintain the momentum.
As far as long-term goals, I graduate in June and the college search is upon me. I think it would be really cool to vault in college. Of course, I put academics first but the opportunity to go to a school and be able to join the track & field team has so many pros. I've been in contact with colleges and am going on a few official visits. After the 16-1, I'll probably hear from some others.
Q—What type of academic direction are you looking at?
WARD—My father (Peter) is an attorney and that is the direction I'm leaning. My brother and I grew up arguing (nicely) with my parents, as we all do. My freshman year, I joined the SDA speech and debate team and absolutely loved it. My speech and debate partner/best friend, Jason Kesler, and I have been doing that for four years and have participated in about 70 competitions—we went to States last year.
It's the most insane thing I've ever done. Debate has been such a good outlet for me. It's helped me intellectually in that I've become so much smarter and a much better critical thinker. I enjoy it so much and law seems like a natural progression. I'm interested in politics and international relations but I'm still figuring out an area of focus. My dad does construction defects, which doesn't sound particularly riveting but he seems to enjoy it and it pays the bills.
Q—Do you ever notice any correlation between pole vaulting and speech and debate?
WARD—In our type of competition—parliamentary debate—you get your topic 20 minutes before the round with no internet and only prepared notes that you hope might be relevant. In one, I was the first speaker and the topic was the Glass-Steagall Act of 1933. I don't think I know a single person who could tell me what that is. I gave some generic "say nothing answer" and, needless to say, we got demolished.
My first year of pole vaulting, we went up against Del Norte in a dual meet. They had a 14-6 vaulter and I was at about 10-11 feet. I was out before he even attempted his opening height. There's no worse feeling than that—kind of how I felt after our speech and debate debacle.
Q—Has "trading" your gymnastics career for your high school pole vaulting career been worth it?
WARD—You might say that one was almost a continuation of the other. My gymnastics career has been paramount to my pole vaulting. Not only did it leave me with good air awareness, strength and body control, but it also taught me so much about hard work and dedication that I have carried over to pole vaulting. Pretty much, I attribute all my pole vaulting accomplishments to my 10 years as a gymnast.
---