Fahy primed for big senior season at La Costa Canyon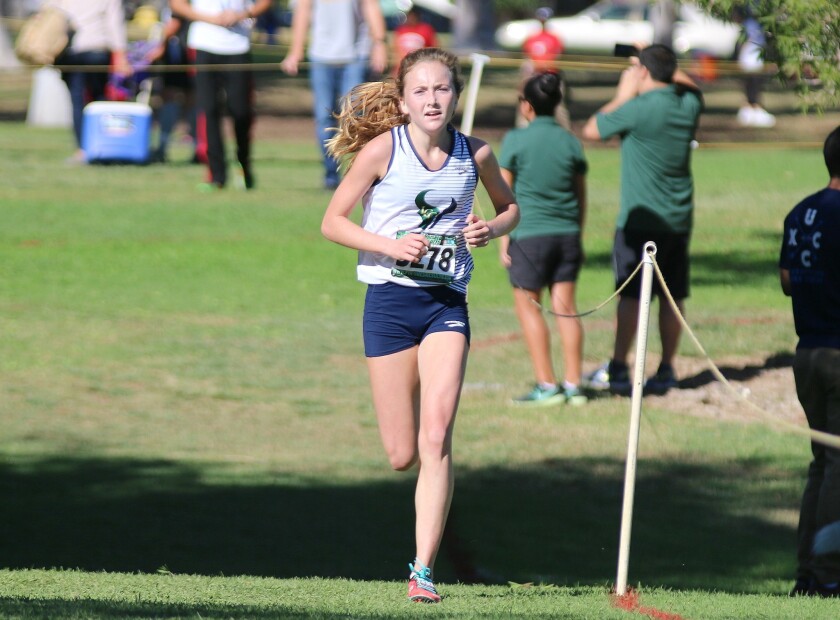 One of the first things that strikes you whenever La Costa Canyon senior cross country star Kristin Fahy talks about her sport is how remarkably free, easy and fun it sounds. Kind of like a cool afternoon breeze drifting off nearby Moonlight Beach. It is clearly something she treasures.
Even a partial list of her accomplishments can be intimidating. Three-time CIF team champion, two-time CIF individual champion (in both cross country and track & field) and the youngest member of what is likely the area's pre-eminent running family. For some, seeing those accolades for a high schooler participating in an individualistic sport like distance running would make it easy to conjure up images of a workaholic logging countless hours of painful training, stress about being No. 1 or feeling pressure that could potentially result in making the endeavor something less than joyful for a young athlete.
Fortunately, for the 5-foot-3 Fahy, that vision is about as far from reality as possible. It's doubtful you'll meet a more likeable, laid back, uncomplicated athletic standout in any individually-oriented discipline.
Although she's part of a "running family" that includes two older brothers, Darren and Steven, who were CIF individual title winners at LCC, Fahy's running career got a relatively late start. It's also been conducted in a relaxed manner that hasn't included the high mileage or ultra-hands-on direction that many younger runners encounter at an early age.
In his fourth year as Fahy's prep mentor, Maverick Head Coach Bill Vice is appreciative of not only Fahy's results, but her approach.
"She's one of the best we've ever had and that's saying a lot because we've had some pretty incredible girls over the years," says Vice. "Kristin is a competitive kid but so easy-going. She has never questioned anything and done what we've asked unflinchingly. I love the way she's progressed, doing more and getting better each year. In that respect, she's continued an important legacy in our program — our best runners have always worked hard and we continue to have success because the kids believe in our system and we have had leaders, like Kristin, who exemplify that."
With the opening of training camp for the 2018 season fast approaching, Fahy took time to talk about her early exposure to the sport, how she responded to her biggest challenge following last season's CIF State Meet, and the enthusiasm she has for the upcoming campaign.
Q—There are three Fahys who have been CIF cross country champions at La Costa Canyon. What's been the impetus for running in your family?
FAHY— Both of my parents (Eoin and Theresa) ran. My dad was a rower in college but starting running afterward and became a very good marathoner. My mom ran but not super competitively. They both loved the sport but didn't pressure us. We were introduced to running at an early age but they allowed us to "discover" it on our own. We never did compete as little kids.
They took us to the Junior Carlsbad race every year, got loosely involved with a local running club and, at some point, did a few local races. My brothers were into running so I got interested in that way. I didn't follow the sport real closely but went to their races.
Q—When did you start taking it more seriously?
FAHY— I was never super-interested until high school. I didn't do track and field in middle school. My parents didn't force me but suggested that I go out for summer training with the LCC team before my freshman year, just to see how it felt.
I really liked it. I was scared and worried at the start but the seniors were so welcoming—the whole running community is so welcoming and I love that about the sport. I saw the team aspect of it which seemed more fun—having girls to run and train with every day. It's all kind of flowed from there.
Q — Was it beneficial having siblings precede you at LCC?
FAHY— I think so. When I got to high school I knew what I was getting into as far as training and it was nice to have had the experience of watching and listening to them.
I think it's cool having older brothers and sisters to look up to and learn from. We've all had different running experiences but they've given me advice from time-to-time and always wish me good luck before races.
One of the most important pieces of advice they gave me is "not to take it too seriously and enjoy the experience." They had so much fun at LCC and told me to always have fun and get the most out of my time in high school.
Q— Despite your lack of "high level" background, you placed second behind teammate McKenna Brown as a freshman at the 2015 CIF Championships. How did that happen?
FAHY— Some of it just came naturally, it really did. I'm fortunate to have those "running genes," I guess. I used to always run in the school jog-a-thons when I was younger and with no training went out and beat all the boys.
I'm competitive, for sure, but I also try to keep it all in perspective. Obviously, you have to be focused, have the training and the drive at this level, but I always remind myself that people race better when they enjoy what they're doing. That's a priority.
Q — One of the axioms you hear regularly about cross country and other individual sports is that "you get out what you put in." What have you put into the sport and what have you gotten out?
FAHY — There are no shortcuts in distance running. You have to train consistently and you can't cut corners. I try to follow that philosophy and it's nice to have a team with you to help you stay mentally tough. If I've done all I can do with training, I don't worry about outcome. That will take care of itself.
Q — After winning your first personal CIF Cross Country crown as a sophomore, you made it two-in-a-row last fall while LCC was grabbing its third straight team championship. Then came the CIF State Championship (Division III) which started smoothly but had an unexpected twist at the finish. What happened there?
FAHY— I took it out strong and was running well at the front but then I started feeling my pace slowing. I still had a fairly comfortable lead with about 400 to go when I stumbled, fell and just could not get up. To this day, I really don't know what happened.
My coach was right there encouraging me but I just could not get myself to stand up at all. Eventually, the race officials pulled me to the side as the other runners started coming in. Leading up to the race, which was a little longer than we had run at the section meet seven days earlier, I had been dealing with some lingering injury issues (IT band). We backed down my mileage trying to resolve that and with the added distance, maybe I just wasn't fit enough.
I feel like every athlete probably experiences something like that. I knew that I had to use it as a learning experience and just started focusing on preparing for the upcoming track and field season.
Q — At the time of your fall, it appeared LCC was in position to capture its first state title. Was that a disappointment?
FAHY— Well, we definitely wanted to win but my team was very supportive and there was no pressure on me. After my teammates finished, they all came over to make sure I was OK. It was nice to know they had my back like that.
We still podiumed (third place) which is a great testament to just how strong our team was. I was a little bit disappointed but I just had to tell myself that it simply wasn't my time. I was where I needed to be mentally but not physically. You have to go with the flow in moving forward from a situation like that.
Q — Your head coach, Bill Vice said, that in light of the way the cross country season ended and the fact that you had to build back up during track and field season while recovering from the injury problems, he felt your victory in the 3,200 at last spring's CIF Track & Field Championships (a repeat victory) was a very important milestone for you. Do you agree?
FAHY— It definitely gave me confidence that I was back and at almost peak fitness. It was helpful that I was able to see the progression that led to that victory.
At the CIF State Track & Field Meet a week later, I finished fourth and nearly broke the San Diego section record. My whole family was there and though I had really stayed away from looking back and comparing it to cross country, I was excited to finally sort of redeem myself. I was very happy to be able to end the season on a high note.
Q — Can you talk about what makes Bill Vice a good coach, both in general and for you in particular?
FAHY — He really focuses on good workouts and doesn't bump up our mileage a ton. We've never done super high mileage (45-50 miles per week at peak of the season) but always stress quality.
He also asks for our input in training and takes how we're feeling into account. He's patient with us and makes sure we're patient with ourselves, not doing more than we're capable of at any given point. He's never in your face the way some coaches are but we know he's always there supporting us and always available.
Q — What are your plans after high school?
FAHY— I'm definitely looking to run for a Division I college and will be taking some official visits this fall. My brothers went to Georgetown (Darren) and Stanford (Steven) respectively and both loved their experiences, so those two schools are in the mix (her 4.3 weighted GPA should help).
It's also always in the back of my mind that maybe I could run professionally at some point. That's not out of the question, but I also want to pursue a career and I am going to school to get an education.
Q — Any thoughts on what type of career might be in your future?
FAHY— I'm interested in majoring in biology but I'm not sure exactly where that will lead. I might be interested in the medical field and sports medicine is something that seems like it could be a good fit.
Q — What types of things do you enjoy outside of school and running?
FAHY— I try to keep a balance. I like to bake—and really just like making food. Muffins and bread are my "go to" items — love those carbs. I also like going to the beach with my friends and watching movies (Incredibles2 and She's the Man are two Fahy recommendations).
Q — What are your expectations for this year?
FAHY— I was fortunate in late July to get invited to a Nike-sponsored camp at their Oregon headquarters. I was able to meet other national- level high school runners and some of the world-class runners Nike sponsors. It was a lot of fun and coming off that, I'm super excited about this season at LCC and what's ahead for us.
As a team we're shooting for a fourth straight CIF title and I would like to finish first for a third time. I think it will happen but I'm not going to put pressure on myself. Like every race, it's a step in a progression that goes through the CIF State Meet — and I really think our team has a chance to be in contention for that (a State Championship) again.
We're losing McKenna Brown (second in both the San Diego and State CIF races in 2017) so that's a big spot that needs to be filled but Jessica Riedman, who's already great in cross country and has been working very hard this summer, is back and we've got a strong core of returners behind her.
As a senior, it's also very important to me to play a leadership role for this team. I had really good role models when I was a freshman and I hope to show our younger runners how to stay dedicated and also have fun. I want to lead by example so they know that if you work hard and give your all every day, you're going to succeed.
---
Sign up for the Encinitas Advocate newsletter
Top stories from Encinitas every Friday.
You may occasionally receive promotional content from the Encinitas Advocate.