La Costa Canyon boys, girls extend reign atop CIF cross country
In the National Basketball Association, a quadruple double occurs when a player reaches double figures in four different statistical categories. Saturday, Nov. 17, the La Costa Canyon cross country team recorded a quadruple double of its own and the Maverick version may just be more impressive.
At Morley Field in Balboa Park, both the LCC boys' and girls' teams won CIF Division II Championships, overpowering the opposition while capturing dual section titles for the fourth consecutive year.
"It's really a testament to the quality of our kids and how consistent we've been," said LCC Head Coach Bill Vice, who now has a combined 13 CIF titles in his tenure. "I told our team that you don't have that many opportunities to win championships in life so take advantage when you do.
"They need to enjoy it because it's special—you never know when the next one's going to come."
Saturday may have been the most dominating overall performances by a Maverick team in Vice's 20-plus-year run at the helm.
With the Stanford twins, Jacob and Garrett, running 1-2, and junior Caleb Niednagel close behind, the Mavericks swept the first three places while scoring 36 points and out-distancing second place Poway by 62. Jacob Stanford, who got to the front in the first half mile and stayed there, clocked 15:06.0 over the hilly 2.96-mile course to garner his first section individual crown. His brother was 2.7 seconds back and Niednagel hit the line at 15:13.6. Stanford's winning time was the second fastest of the day, behind only the 15:05.1 posted by Mission Hills' Jonathan Velasco in the Division I race.
"We definitely wanted to go 1-2-3 and we all finished together, so I'm really happy about that," said (Jacob) Stanford following the race. "Finishing first individually was cool but I was really excited to have led my team to its fourth championship in a row.
"We all probably could have run faster but I wasn't really worried about my time today. It's tough to compare different races—I'm just happy the way ours turned out." Junior Andy Pueschel recovered from a fall at about the two-mile mark and put in a strong late drive to place ninth in 15:34.7. Another junior, fast-improving James Miramontes rounded out the scorers in 21st.
The LCC girls did the boys one better. Led by decorated senior Kristin Fahy, the Mavericks snagged the first four places in their race, scoring a near perfect 23 points to leave runner-up Poway a distant second with 75. Fahy, who went wire-to-wire, captured her third straight CIF gold medal in a course record 16:57.5, more than 50 seconds in front of her second place teammate Jessica Riedman.
"It's been a really awesome senior season for me and my team and this was the most exciting team finish we've ever had in CIF," said Fahy. "As a senior, I wasn't really focused on time today. I wanted to stay consistent, take it all in, but definitely come away with the win.
"Down that last stretch, though, when I saw I could come in under 17 minutes, I definitely kicked it in." Freshman Kyra Compton and sophomore Sydney Weaber seized the third and fourth slots and it was the latter, who nipped Steele Canyon's Arion Livingston by three-tenths of a second at the tape, that got the normally calm Vice to throw down a few fist pumps with her finish.
"We had talked about it leading up to the race and I told them, 'I'm not trying to scare you but we could go 1-2-3-4,' " said Vice. "When I saw the effort—and it was Sydney who prompted it with her charge at the end—I just thought 'Oh my gosh, they did it.' " Steady senior Natalie Schroeder was the Mavs' fifth scorer in 13th place.
Of his team's protracted run of success, Vice was philosophical. "It will come to an end someday but I hope that whether we're fighting for the first spot or 34th spot, we'll show the same kind of effort we had today."
Both teams will represent San Diego, and could be title threats, at Saturday's CIF State Championship meet which will be held at Fresno's Woodward Park. Between the boys and girls squads, the Mavericks have finished second five times but never won a state championship.
For more CIF Cross Country coverage, see below.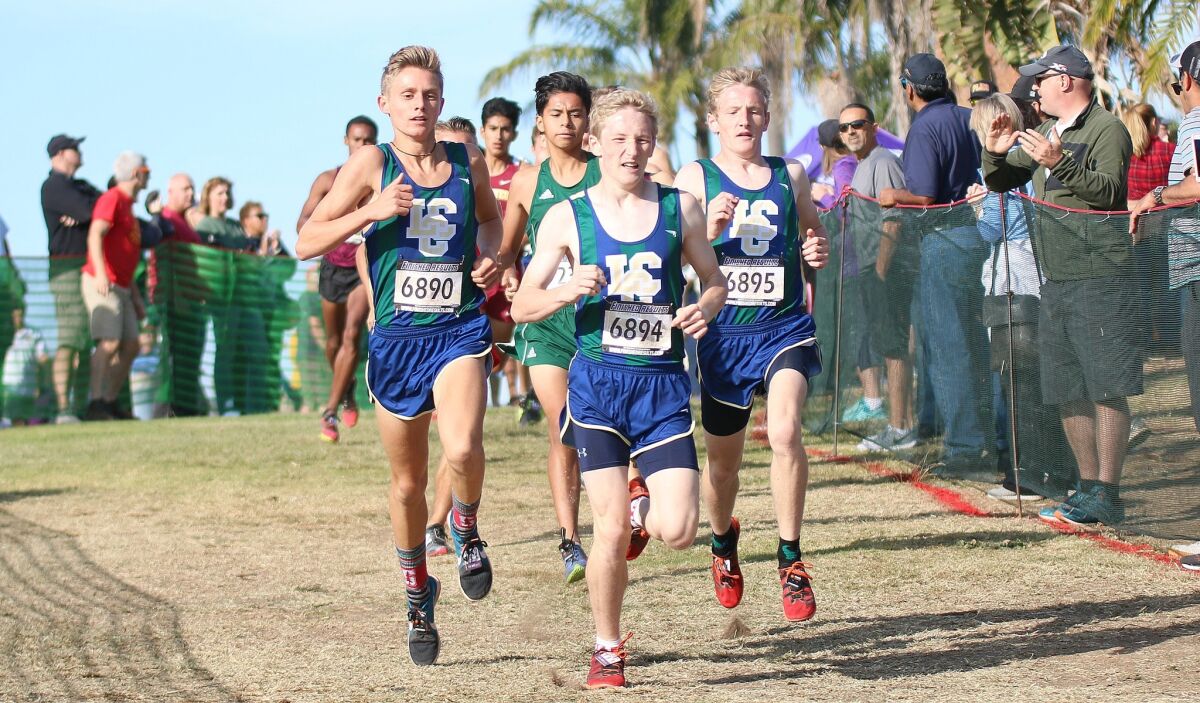 NOTES, QUOTES & PHOTOS FROM THE CIF XC CHAMPIONSHIPS
DOROSTKAR, CANYON CREST HAVE NOTEWORTHY DAY – A solid all-around day for the Ravens was highlighted by junior Carlie Dorostkar's runaway victory in the Division I race. Dorostkar, essentially running alone, posted a time of 17:19.4 while defeating Rancho Bernardo's freshman silver medalist Jacey Farmer by 53 seconds. Led by Dorostkar, who finished fourth in this race a year ago, the CCA girls claimed third in the team race.
The Raven boys were fourth but got a great effort up front from junior Andrew Schulz who locked down third place with a 15:28 mark. Schulz will be joining Dorostkar at the State Meet Saturday. The girls' winner has had that event in her sights all season.
"I'm super excited about the State Meet and my goal is to be top five," said Dorostkar. "Today, I just wanted to get out fast and go for the win. While it's less stressful when you're alone, I like it better when there's someone with me, because I don't slack off." CCA Head Coach Andy Corman was obviously elated by the performance turned in by his ace.
"Carlie took control from the beginning which we knew she was good enough to do," he said. "She felt smooth and strong throughout the race and didn't have to go deep down to win it. She should be in good shape for State.
"Overall, I think both teams did well. We were hoping to get top two but it just didn't happen today—we had good races but other teams just raced very well."
The only thing that didn't go to plan was when Dorostkar missed the post-race awards ceremony. "It was scheduled for 11:00 AM and I came in from cooling down with plenty of time," she said. "I was there at 11:00 AM but they started early—last year they started late." CIF officials kept the other members of the top 20 on hand and re-shot the group photo when Dorostkar arrived."
TORREY PINES REPORT – Head Coach Kaitlin Hildebrand noted that "with no seniors on the boys' roster and just two in the girls group, both teams are very young and it was kind of a rebuilding year." That didn't stop the Falcons from collecting a pair of top 10 Division I team finishes. The girls, led by freshman Annika Salz's ninth place run, were fifth and the boys, paced by Annika's brother, Nick, in eighth took eighth.
The younger Salz, who qualified as an individual for Saturday's State Meet, would seem to have a very bright future. "Annika improved every single week, getting faster in workouts and faster in meets," said Hildebrand. "Today she ran a very smart race, getting into that lead pack right away and staying there.
"She's only got about five months of training under her belt and look where she is—with another year, she'll have a shot at being one of the best."
RIEDMAN UNSUNG HERO FOR LCC - With the brilliance of three-time CIF champ Fahy dwarfing the local girls distance scene, it's been easy to overlook the superb career of this year's D-II runner-up Riedman. She's been top five the past three years at the CIF XC Championships (fifth in 2016 and third last year). In track & field Riedman has never been lower than fifth in either the 800 or 1,600 during the first three years of her prep career and is the reigning D-II 800 champion.
This year's XC competition was much less dramatic for the tenacious Riedman than it was a year ago. Last fall, running second to Fahy and pouring everything she had into her finish, Riedman collapsed twice in the final 50 yards but had the will to get up and managed to cross the line third. It was a lesson not quickly forgotten.
"I was thinking about it and kind of paced myself a little bit," admitted Riedman. "I knew I could go faster but I wanted to save something so I could kick really hard in the last 200. I ran more within myself than I did last year.
"It's nice having Kristin in front because having her there helps me keep a consistent gap. Running 1-2-3-4 was amazing. I could not ask for anything better. I think going into next week's State Meet we'll have a lot of confidence."
WEABER TAKES ADVANTAGE OF BREAK – LCC sophomore Sydney Weaber saw an opening, she took it and ended up providing the last piece of the Mavs' 1-2-3-4 finish in the women's D-II race. In a top 10 position but well back of fourth heading into the last mile, she acknowledged that she didn't know if she could make up the distance. Fate intervened when one of the Scripps Ranch runners ahead of her tripped over a curb in one of the crossover sections of the course, re-shuffling the order.
"I made a surge and when I got over the final hill, I saw the last girls kind of right there," said Weaber. "I said to myself, 'OK, I'm going to do this.' "
"I really tried to push it all the way in. It was a really tough race, one of my toughest—I had nothing left."
Weaber was seventh as a freshman last year.
NORTH COUNTY DOMINATES – North County schools ruled in Division I and II. Of the 40 top 10 slots available in the girls' and boys' competitions in those two divisions, 25 went to North County institutions. With Rancho Bernardo victorious in the D-I girls' event and El Camino prevailing among the D-I boys, North County owned the top spot in all four races. Additionally, Sage Creek took both ends of Division IV and Santa Fe Christian was the girls' Division V champ.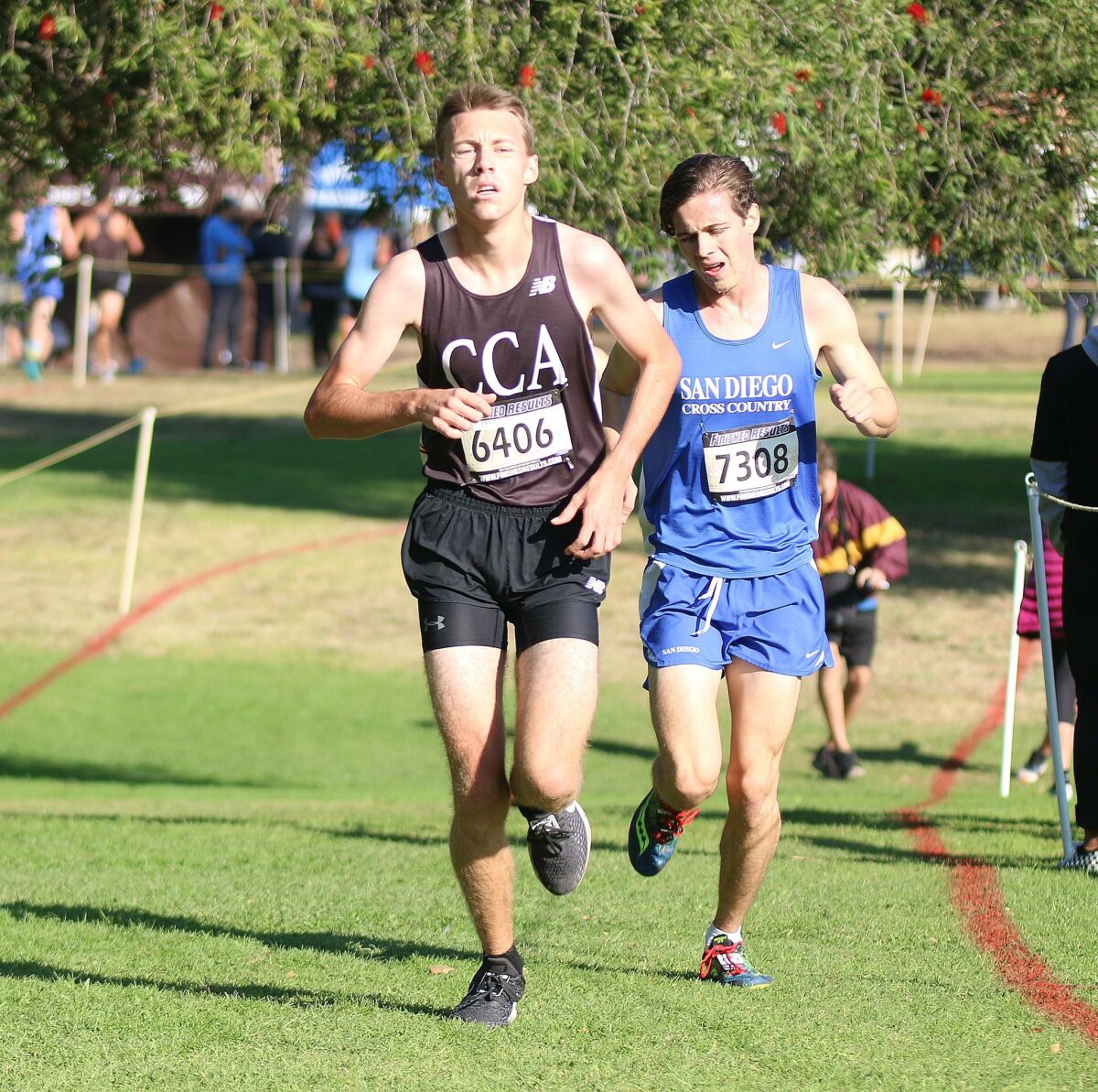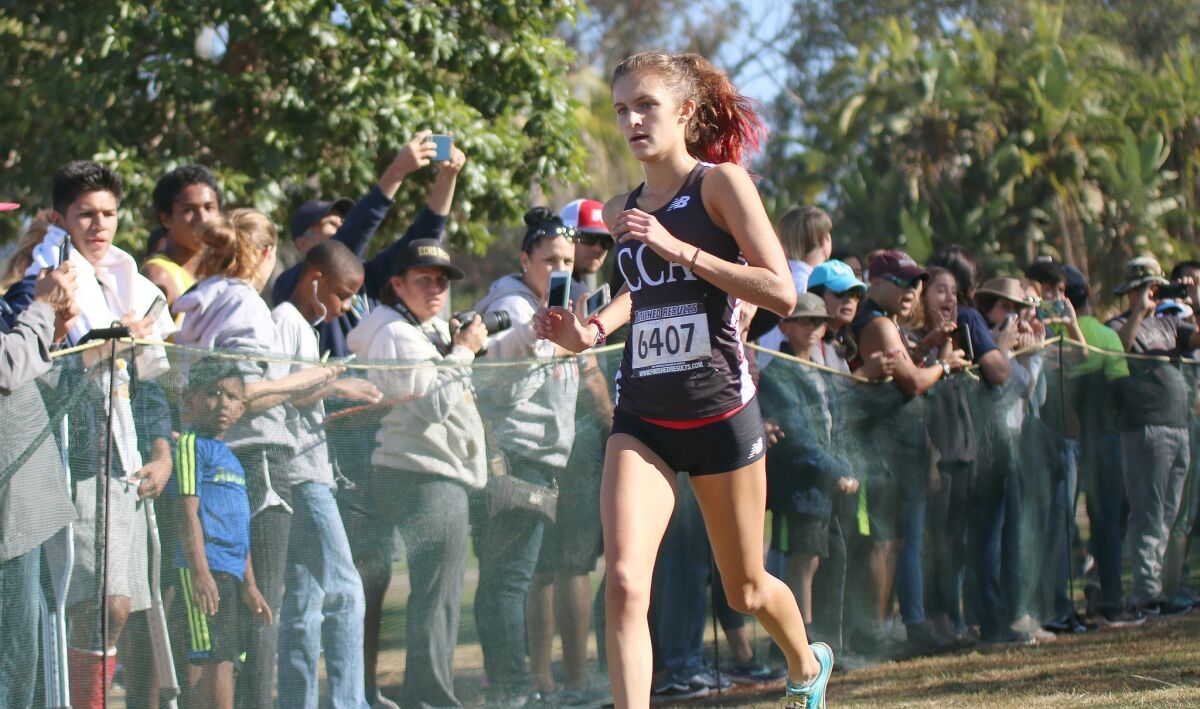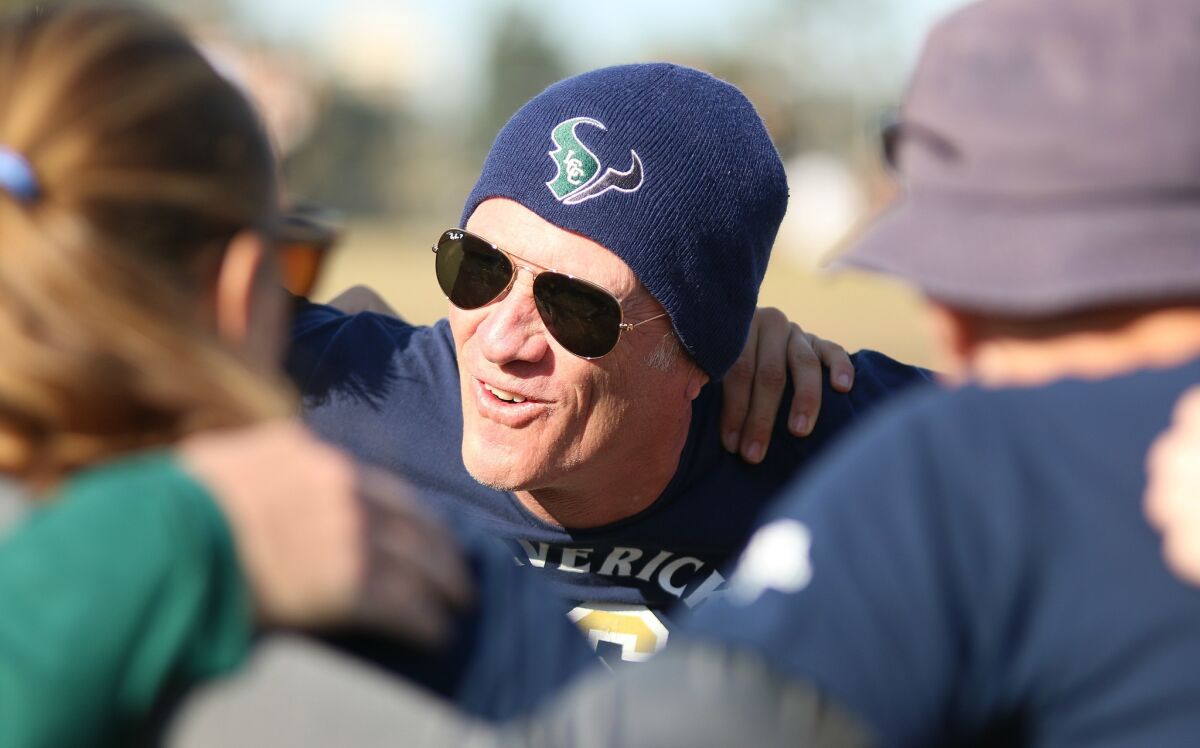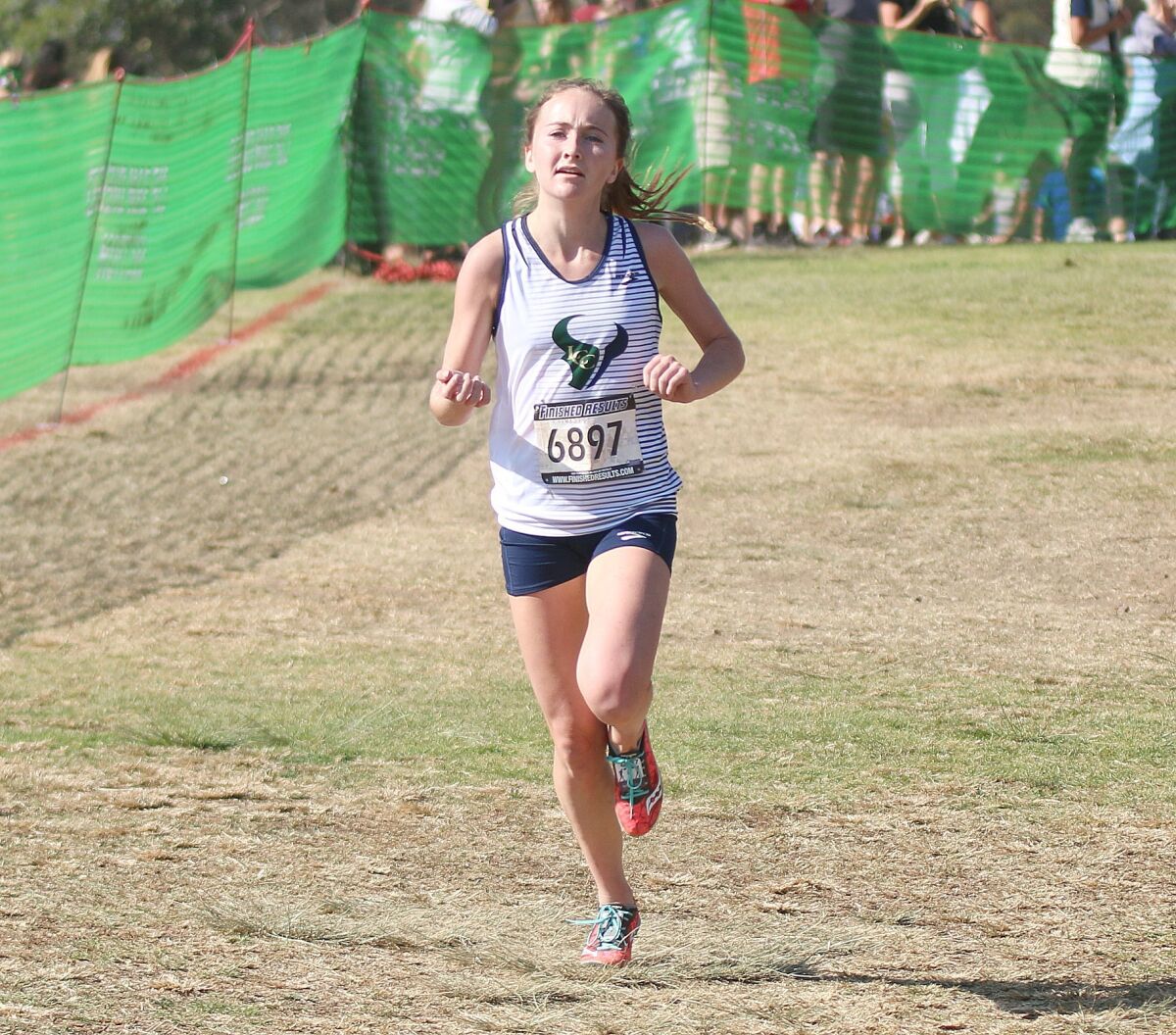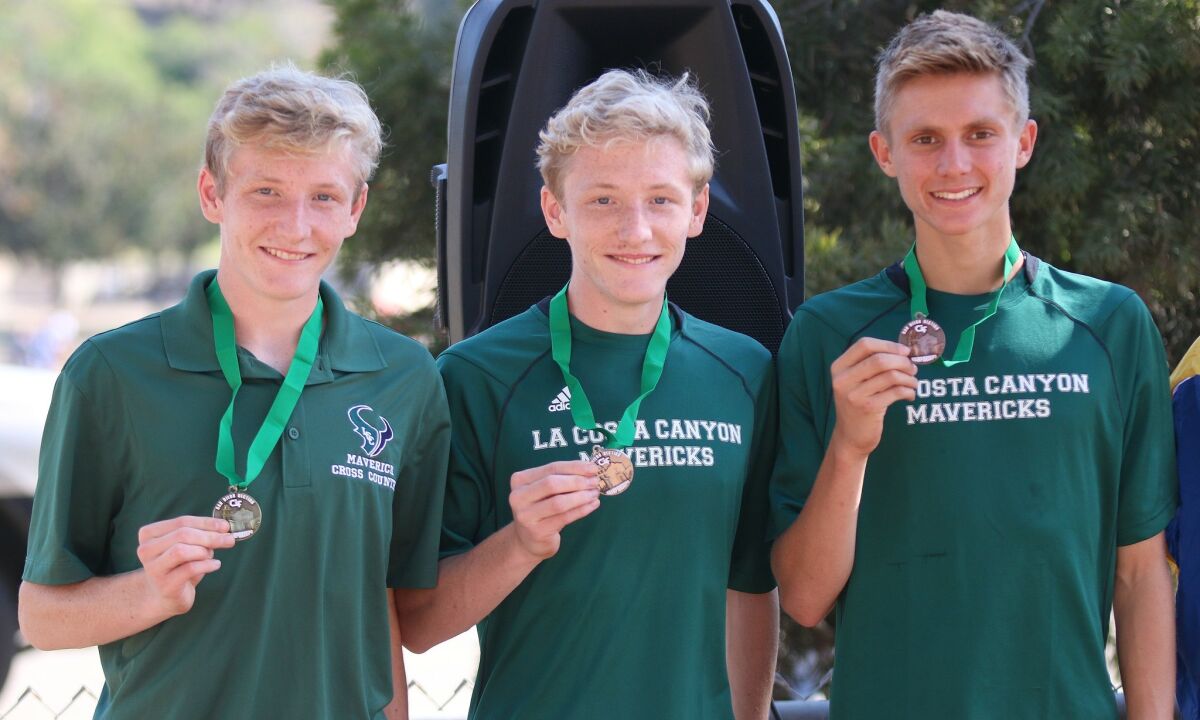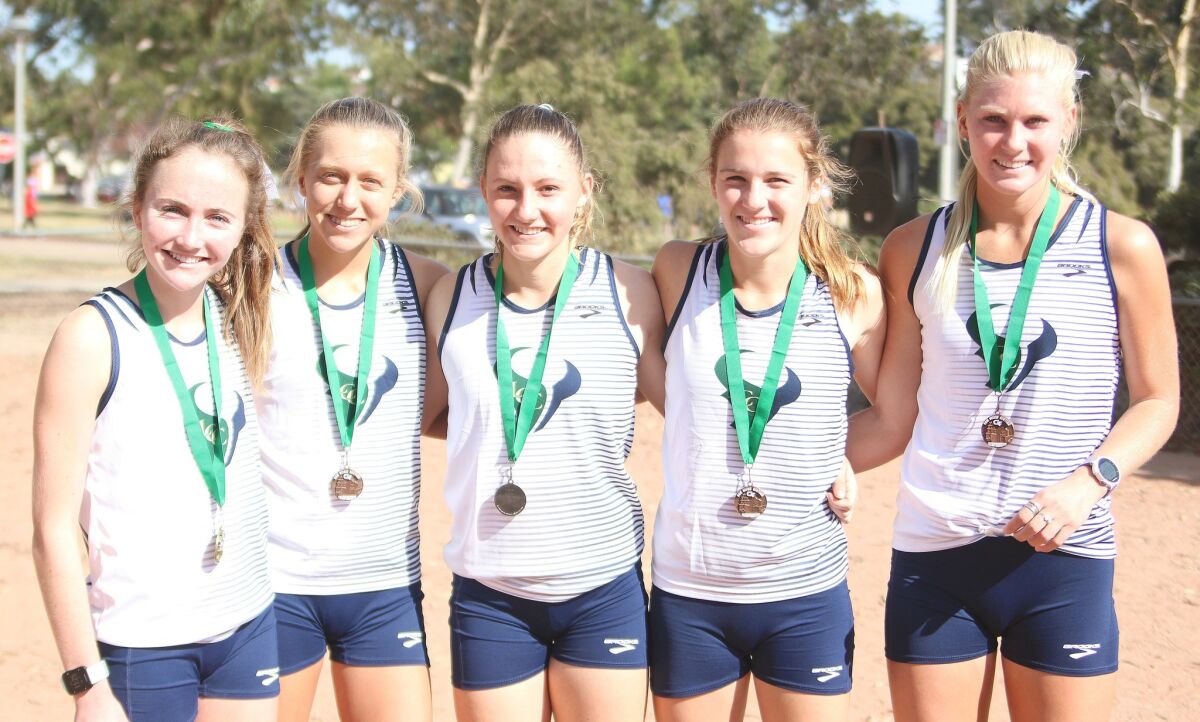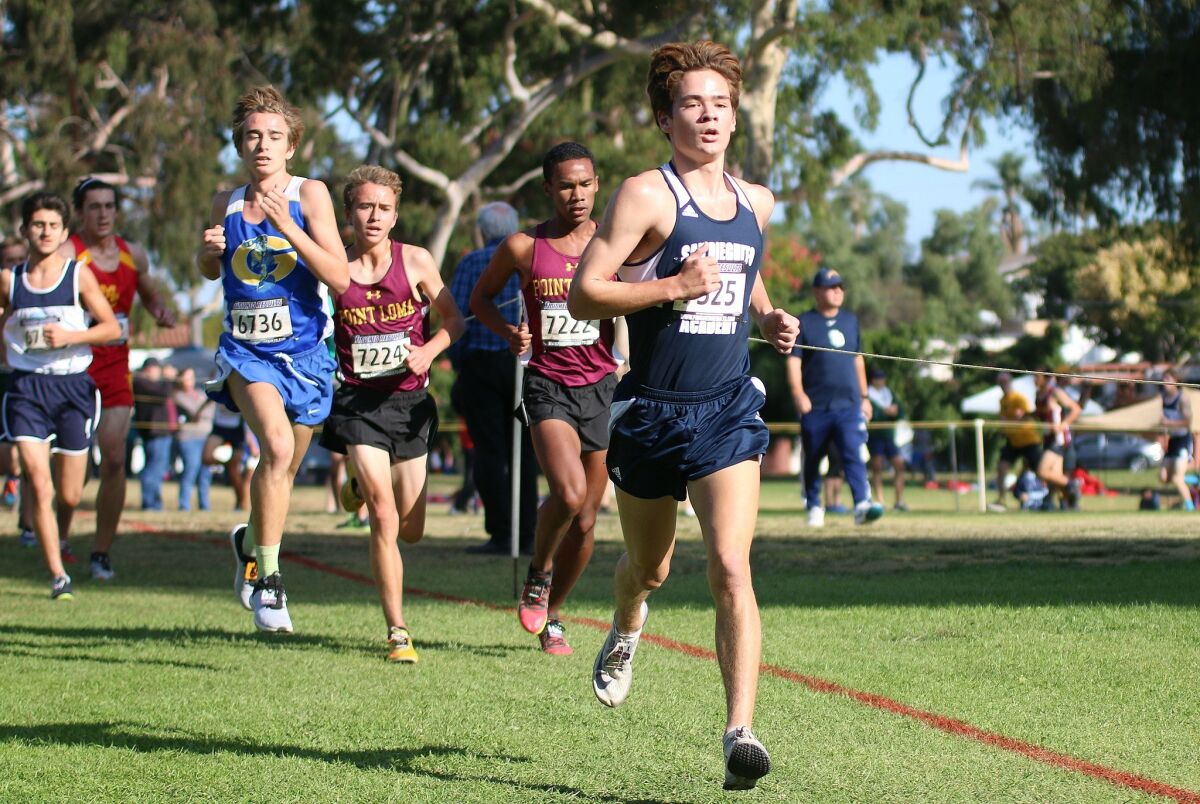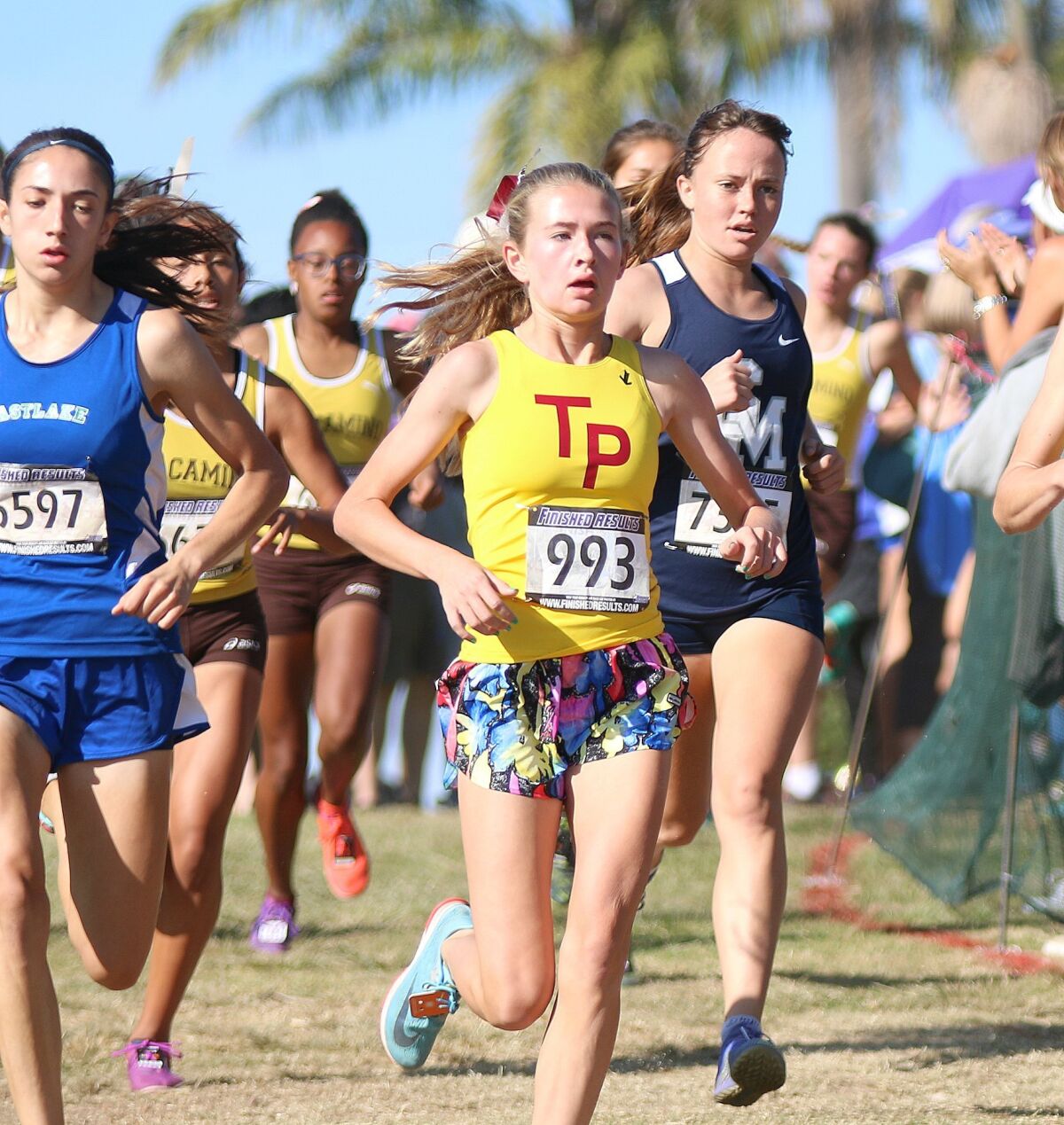 Sign up for the Encinitas Advocate newsletter
Top stories from Encinitas every Friday for free.
You may occasionally receive promotional content from the Encinitas Advocate.