Mavericks impress in first 2018 cross country outing
Traditionally the opener of the San Diego high school cross country season, the annual Bronco Round-Up, the 2018 version which was run last Saturday at Kit Carson Park, typically provides a good measuring stick for local squads. It's two-mile distance for both boys and girls is also an opportunity to ease into the more arduous portions of the schedule on deck.
For La Costa Canyon, the defending CIF Division III champions in both genders, the event showed Head Coach Bill Vice that his Mavericks are right on track, even though both rosters were missing some key pieces. "We're exactly where we want to be," said Vice, heading into his 22nd year at the LCC helm. "This was a really good race for the girls since we had three freshmen and a sophomore in our varsity seven. It gives them a chance to test out what we've worked on in practice, get used to the race warm-up, how to get to the line and all the little nuances you see on race day.
"The boys' team is bit more experienced so they're dialed in and ready. Since we're training for the three-mile races we'll see later in the season, this race can sometimes be a little misleading because you add another mile and it makes a big difference.
Here's a rundown on what the Mavericks, as well as some of the other local teams in action Saturday.
La Costa Canyon finished second, 10 points behind Sage Creek (62-72 pts.) but there's little reason for concern in Vice's camp. Three-time defending CIF titlist Kristin Fahy and fellow senior Natalie Schroeder, a steady contributor in the middle of the lineup, were both missing in action, taking care of a college visit and ACT testing respectively.
"Having Kristin and Natalie here would have taken nearly 50 points off our score," said Vice, "but I'm really pleased with what I saw. We've been training well and I tell them this is kind of like a practice with uniforms on."
Another senior, Jessica Riedman, the reigning CIF track & field title holder at 800 meters, went to the front of the pack and led for more than half of the race before being passed by the Sage Creek sister pair of Skylar and Stormy Wallace. Skylar Wallace went on to win the race in 11:27.4 but Riedman rebounded to collar Stormy Wallace for second in 11:34.6. She found being the target instead of chasing the target to be a new experience.
"It's good to have a little adversity in the first race of the season and I was glad that I went faster than last year in this race which is a good sign," said Riedman. "But I'm not used to being in the lead and it was a little weird.
"It's a little dangerous, not knowing whether to start pushing or just staying with the pack so that I knew when somebody else was a starting to make a move. I tried not to put any expectations or pressure on myself but just run a good race and keep my pace up in the second mile."
LCC freshman Kyra Compton made a solid debut, crossing the line fifth in 11:55.5, while sophomore Sydney Weaber (10th) gave La Costa Canyon a third top 10 finisher. Freshman Georgia Patnya was 26th. Riedman felt that not having the two other seniors running had some benefits.
"Georgia, Jessica (Oden) and Veronica (Patnya) got to compete in the varsity race which I think is really good for them and the team," explained Riedman. "They get to see their teammates in front, get experience and develop the confidence that comes from being in a fast race."
Torrey Pines brought a large contingent to the Bronco and second-year Head Coach Kaitlin Hildebrand knows she's got a different task with a roster that's missing many of the mainstays from last year's outfit that placed fourth in the CIF Division I Championships.
"Honestly, this is a rebuilding year and our girls did about what I expected," said Hildebrand after watching the Falcons capture fifth Saturday. "Our top two kids did great and it's just a matter of bringing our other runners along.
"It's exciting to see how much our program has grown. We have much larger numbers, they're training well together and that will start showing up in their races." The top two were standout freshman Annika Salz (7th/12:07.8) and sophomore Paige Endres (12th), who was a CIF Track & Field finalist in the 800 as a freshman.
Cathedral Catholic, paced by junior Avery Tassan in 35th, claimed ninth in the team standings while Coach Andy Corman, whose Canyon Crest girls won last fall's CIF D-I crown, kept most of his veterans on the sidelines while the younger Ravens ran 13th.
Despite the fact that senior Garrett Stanford, the 2017 winner of this event and a bronze medalist at the CIF D-III Championships as a junior, was ruled out by a still-not-fully-recovered ankle (rolled a couple of weeks ago), the La Costa Canyon boys' served notice that they will be a formidable force come championship season in November. The Mavericks grabbed three of the top four slots en route to first place finish, a cozy 45 points ahead of runner-up El Camino (51-96).
Garrett's twin brother, Jacob, used a strong finishing kick to claim individual honors, clocking 9:43.5.
Second belonged to San Pasqual senior Franky Varela, whose campus is right across the street from the Kit Carson course, with the LCC junior duo of Caleb Niednagel (9:46.0) and Andy Pueschel (10:02.7) accounting for third and fourth. Tactically, Stanford said that getting a good start was key.
"Sometimes in a longer race, I like to sit back a little, kind of gauge my surroundings," said Stanford. "But today was like a blitz and you had to make decisions quickly to make sure you were in a good position right from the beginning.
"This is a compact course with a lot of turns and very hard to pass people. I felt that if it came down to the last mile or the kick, if I was in front, I could stay there."
Niednagel, running for the first time in Maverick colors, is a transfer from Orange County power Dana Hills and finished 10th at last season's State Meet. He proved to be an able replacement for Jacob Stanford, who typically runs in tandem with his brother.
"You know, it was a bummer not having Garrett running but Caleb was there and Andy was right behind him so it was still running with a teammate," said Jacob Stanford. "I was very pleased with how our team did. Even without Garrett, we dominated the front pack with our top three runners and I'm super stoked that our 4-5-6-7 guys are stepping up and getting in the top 30."
Behind the top trio were juniors Asher Savage (22nd) and James Miramontes (23rd). Vice was happy with the way Niednagel worked with his new teammates and the Mavericks' overall outlook.
"I'm sure Caleb's probably a little disappointed with third but he and the Stanford twins are going to give us an incredible 1-2-3 punch," said Vice. "When the races get longer that will suit him well.
"Andy Pueschel was also huge today. We knew he was good but he's been steadily closing the gap on the top guys. So now we work on our fifth guy. Asher and James were there today but we've got a lot of guys who are going to make that competitive." For good measure, LCC sophomore Jackson Schalow took the top spot in the junior varsity race, hitting the tape in 10:45.5.
Over in the Torrey Pines camp, Hildebrand was enthusiastic about her boys' performance in week one. The Falcons, second at last year's CIF Division I Championship, suffered significant losses to graduation but were a commendable third with 115 points Saturday. Junior Nick Salz in ninth place (10:09.3) was first home followed by four sophomores—Sebastian Barclay (17th), Reinhard Bartsch (27th) and James Cusack (38th) and Dalton Beeler (44th)—and junior AJ Castellanos (52nd).
"Obviously, Nick Salz did very well," said Hildebrand, "and Sebastian Barclay is going to be someone who will improve a lot over the course of the season. He's been a stud 800 runner in track and this is just his first season in cross country."
Cathedral Catholic had two runners in the top 15—juniors David Houk (11th) and Max Wilson (14th)—and wound up ninth in the team ranks.
All of the teams are expected to be at Morley Field this coming Saturday for the annual Mt. Carmel Invitational.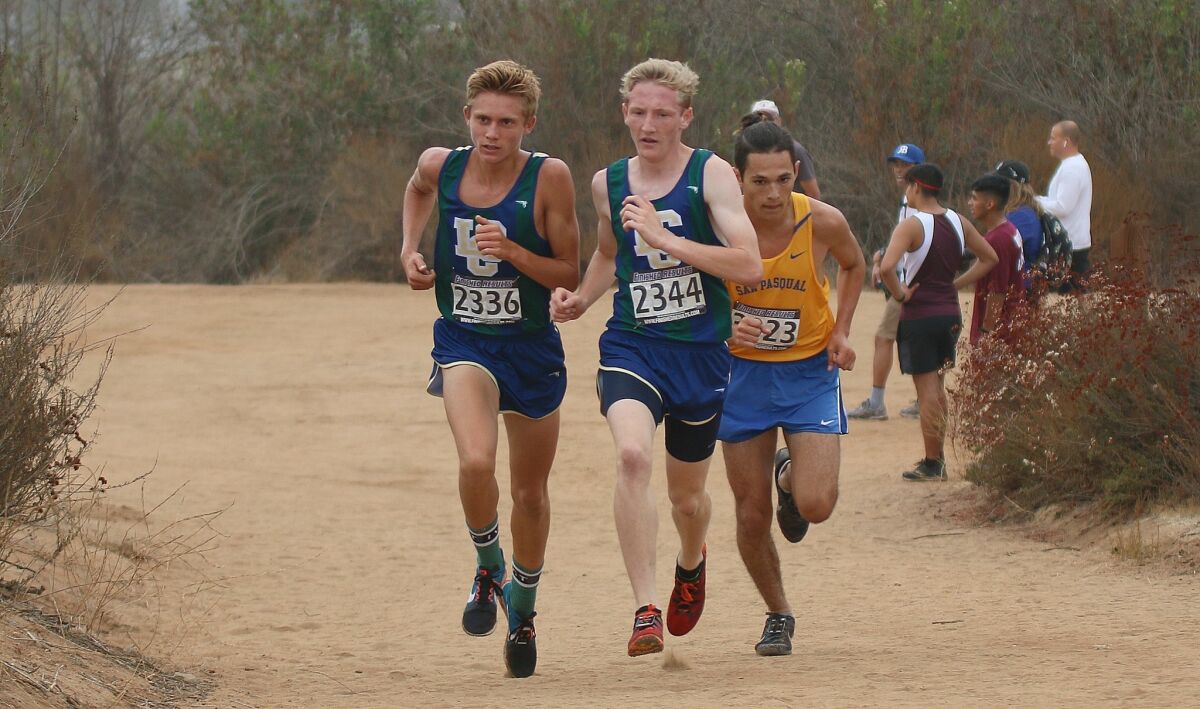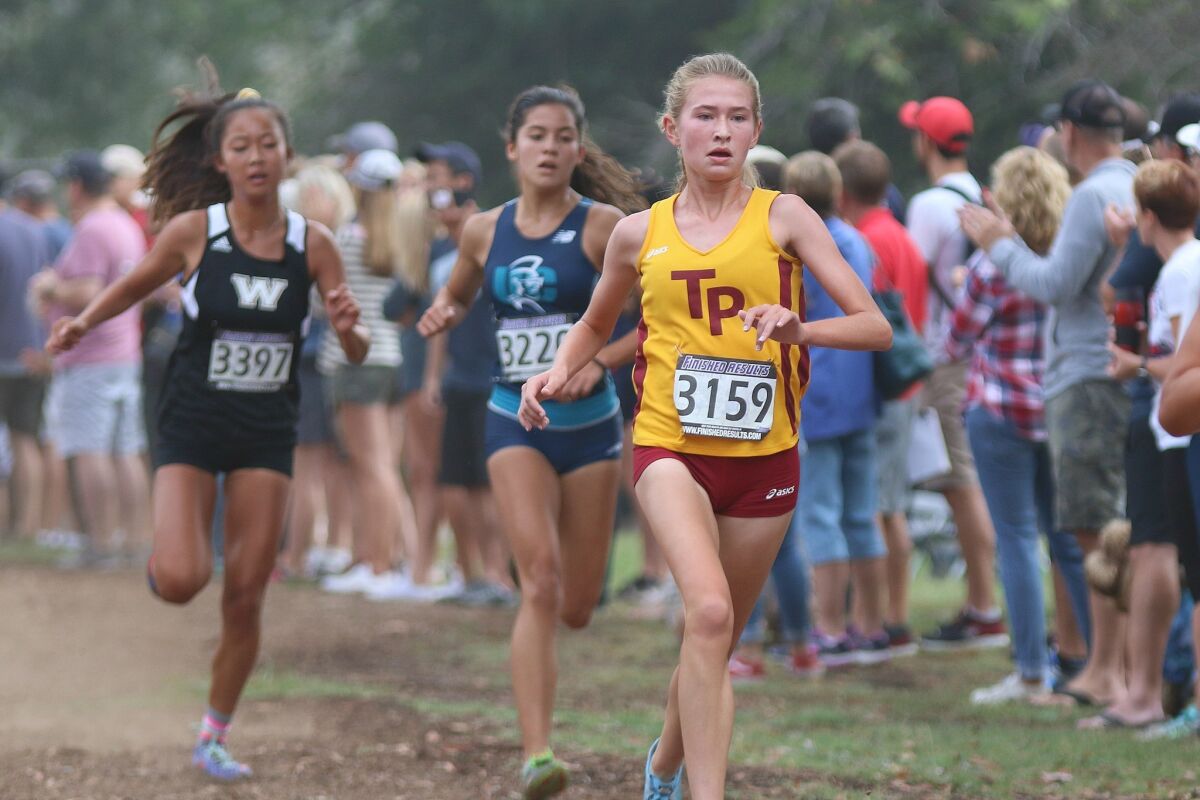 Sign up for the Encinitas Advocate newsletter
Top stories from Encinitas every Friday for free.
You may occasionally receive promotional content from the Encinitas Advocate.