LCC's Gavin Simmons one-of-a-kind two-sport athlete
Although considered in some corners to be a dying breed, the two-sport athlete is hardly extinct in today's high school world. In fact, North County boasts a truly rare form of such versatility—someone who plays the same position in two very dissimilar sports.
In one, he's the only player who can touch the ball with his hands, in the other he's the only player who can touch it with both hands. One sport is known for the foot skills required to be proficient while playing the second, his feet never touch the ground.
Meet La Costa Canyon senior Gavin Simmons. A three-year starter in goal for the Maverick boys' water polo team, he'll also be returning this winter as the first string goalkeeper for the boys' soccer squad, CIF Open Division runner-up in 2018.
At just 5-foot-10, Simmons doesn't possess the size or wingspan typically associated with the top players at his position in either sport but his innate athleticism, mental toughness and ability to set aside and move forward from errors have allowed him to succeed in both arenas.
"Gavin's a quick-twitch athlete, certainly the best overall athlete on our team," says La Costa Canyon water polo coach Grant Harrington. "Generally, in water polo, your goalie's your best athlete but he's also very good on land and dominates our dryland workouts."
Necessities for a water polo goalie include having the leg strength to not only tread water over the course of a fast-paced 28-minute game (about twice that time with clock stoppages) but propel himself out of the water to protect a roughly 10 ft. by 3 ft. cage from shots coming at all angles and speeds. The position also demands a strong psyche that can handle the inevitable failures.
"Mentally, being a goalie is a completely different game, whether it's water polo or soccer," said Harrington. "Knowing there is a likelihood of someone scoring on you is something not everyone can handle. You can't let it affect you but have to learn from your mistakes and make adjustments."
Simmons started out playing recreational soccer as a youngster but matriculated to club water polo at around 12 years of age. "My brother had been playing water polo and I watched a lot of his games," recalled Simmons. "I thought I might like it." So, it was water polo for the next several years and he stepped into the JV goalie slot as an LCC freshman, advancing to his role on the varsity squad the next season. But, in between, soccer came calling again.
"One of my friends started playing soccer at LCC and told me I should try out because they needed a goalie on the freshman team and I had experience playing goalie in water polo," said Simmons. "I wasn't surprised to make the team as a freshman because they needed a goalie, but I was definitely surprised when they told me to show up at the varsity tryout my sophomore year. Without as much experience as most of the others, I wouldn't have seen me as someone who could make the team."
But make it he did, and after serving in back-up status as a sophomore, he became the Mavericks' No. 1 keeper last season. When he moves back over to soccer at the conclusion of this fall's polo campaign, he will have put in four years with both sports. Although it's hard to see from the outside, there have been some bumps along the way.
"Physically, it's difficult playing both, primarily because the conditioning's a lot different," says Simmons. "In water polo, you're obviously not doing a lot of running and in soccer there's always an awkwardness when you start doing ball work, going from hands to feet. You have to be so precise with each sport. There's a saying, 'when you're not in practice, you're out of practice' and that kind of applies in my case."
Veteran La Costa Canyon boys' soccer coach Craig Dean thinks Simmons has done an exceptional job transitioning from one to the other.
"Our program is so competitive that most all of our players are soccer-only athletes" said Dean, who Simmons is quick to credit for his support in making the unusual two-sport venture possible . "It is very rare to have a player in our program that only plays soccer for four months out of the year.
"But Gavin is a naturally-gifted athlete who has great hands, very quick reaction time and great upper body strength, all a direct result of playing water polo at a high level. He's the first goalkeeper I've had at LCC who is a two-sport athlete."
Simmons has found that the different characteristics of play involved in the two sports make going back-and-forth tougher. "Soccer is much more of a challenge to just make the team in that there are more competent, experienced players around you," said Simmons. "In water polo, conditioning is more intense and when you're playing, you don't have much opportunity to rest—in soccer, you're literally not having to keep your head above water.
"But mentally, soccer has a lot more pressure. The games are lower scoring and the team is playing at such a high level—you know you can't make mistakes. In water polo, it's easier to recover from a mistake or two."
Perhaps because of his size, Simmons tends to play aggressively, no matter the setting—coming off his line to make a steal or disrupt the opposing offense, utilizing his instincts to dictate circumstances instead of reacting. He does believe that despite their substantial differences, water polo helps him on the soccer field and vice-versa.
"Playing water polo definitely helps my reactions in soccer," he explained. "In soccer, most of the shots come from a relative distance while in water polo, you'll regularly see shots from a few meters. I make a lot of blocks up close which is something a lot of soccer keepers don't deal with much. I'm used to having to react quicker and have that experience when an 'in-close' situations occur on the soccer field.
"On the other hand, soccer offers a lot of different strategical ideas and techniques that I've found you can bring and apply to water polo."
Although Simmons calls last year's come-from-behind overtime soccer triumph over No. 1-ranked Torrey Pines in the CIF semi-finals something that was "definitely very special," a match-up with the Falcons his sophomore year may have been his most important in terms of credibility.
"I was the back-up goalie, sitting on the bench with my jacket on when our starting goalie got a yellow card and I was rushed out," said Simmons, who remembered not being as ready as he would have liked when the call came. "With about 10 minutes to go, Torrey Pines got a penalty kick that could have tied the game and I blocked it.
"I think it showed the others guys on the team that I knew what I was doing and we went on to win the game." He does more than his share of creating those types of moments in the pool as well.
"Gavin is one of those guys that can just suddenly do something that will make me do a double take," says Harrington. "It might be coming out quickly to make a steal on a counterattack or dropping a perfect over-the-top pass. He's got a great arm and several times, when he's noticed the opposing goalie isn't paying attention, he's scored goals on length of the pool shots."
Earlier this season, just such a scenario played out against Santa Fe Christian. With the ball at the end of the quarter, the SFC goalie launched a final shot at the LCC cage, mistakenly leaving a few extra seconds on the clock. Instead of just pulling it in, Simmons grabbed it and immediately fired a laser in the opposite direction, scoring untouched into the upper right corner.
"I'm always keeping my eye out to see what the other goalie is doing in those situations to see if there's an opportunity to catch him off guard," said Simmons. "You try to count it down and wait as long as possible before shooting—I don't want to leave any confusion as to whether or not I got the ball off before the buzzer but also don't want to leave time for the other team to come back at our goal."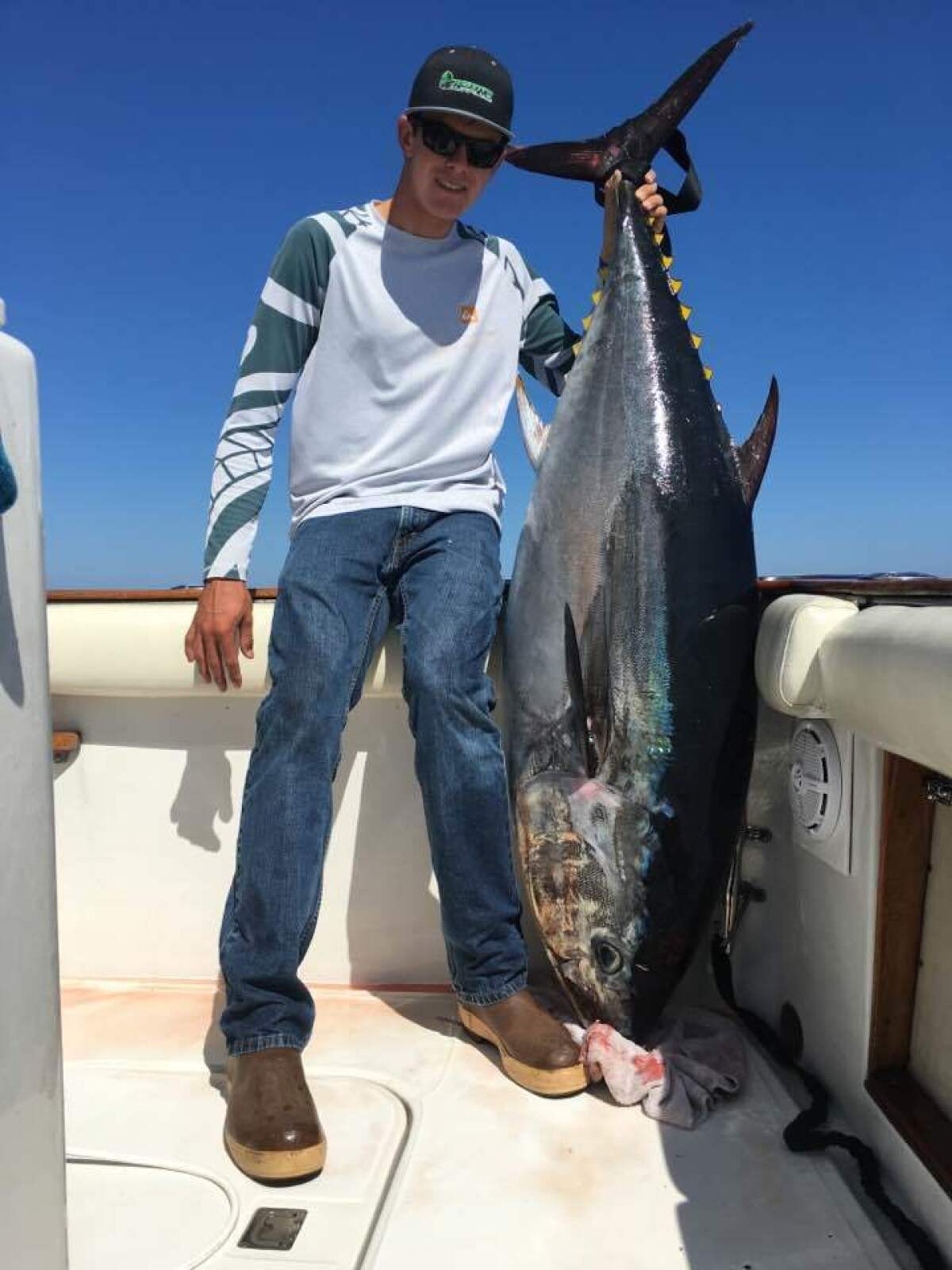 While clearly having demonstrated he's not a fish out of water on the soccer pitch, Simmons spends a lot of his spare time on the water, deep sea fishing. A pursuit that started with his father, Skete, an avid marlin fisherman, taking him out as a youngster on his sport fisher has turned into an interest that has become a bit more than a diversion.
"I definitely spend a lot of time fishing," says Simmons, who lives in Olivenhain. "In summer, when I don't have school or sports, I probably go out three times a month.
"I also go out close to home at the beach as well as in ponds and small lakes. I really enjoy it and it helps me relax."
When he was 8, Simmons caught a junior world record white sea bass (55 lbs.) north of Ensenada and in 2015 about 15 miles off Point Loma pulled in his first marlin. The latter didn't come easy.
"I'd been trying to catch a marlin for three years and we were actually going out to fish for tuna the day it happened," said Simmons. "In my binoculars, I saw a fin come up to the surface so we circled back, cast the bait and it bit.
"I fought it for about two hours on the bow of the boat before finally bringing it in. It was 120 lbs., not super big, but still special because it was my first one." It doesn't take much to get Simmons talking when fishing is the subject.
"Fishing is a challenge, for sure, and it can definitely test your patience," he said. "Some days you can go out at 4 a.m. and get back at 10 p.m. without catching anything—but you're still out there seeing new stuff, going new places, trying new things, talking with other people on the boat and learning."
Boasting a 4.26 GPA at LCC, Simmons has demonstrated an academic proficiency that should open plenty of doors after graduation but he admits that is still a work in progress. "I definitely spend a lot of time on school work but I'm not certain about anything in terms of college or course of study yet," he said. "I'm keeping my options open but it's kind of hard figuring it all out."
One thing that Simmons would like to figure out in the short term is how to secure a big finish to his water polo career.
"The consistency provided by Coach Harrington and his staff has been a huge help," said Simmons. "We've continued to get better and are moving in the right direction with players who look at water polo as their main sport.
"We haven't had that type of special moment in water polo like last year's CIF experience in soccer," he continued. "but in our last stretch of games, we've had moments and quarters where everything comes together—we need to play an entire game where it does that.
"We obviously would like to win the Division II CIF championship, but it won't happen if we don't come together and play a more complete game—I think we've got it in us."
Sign up for the Encinitas Advocate newsletter
Top stories from Encinitas every Friday for free.
You may occasionally receive promotional content from the Encinitas Advocate.