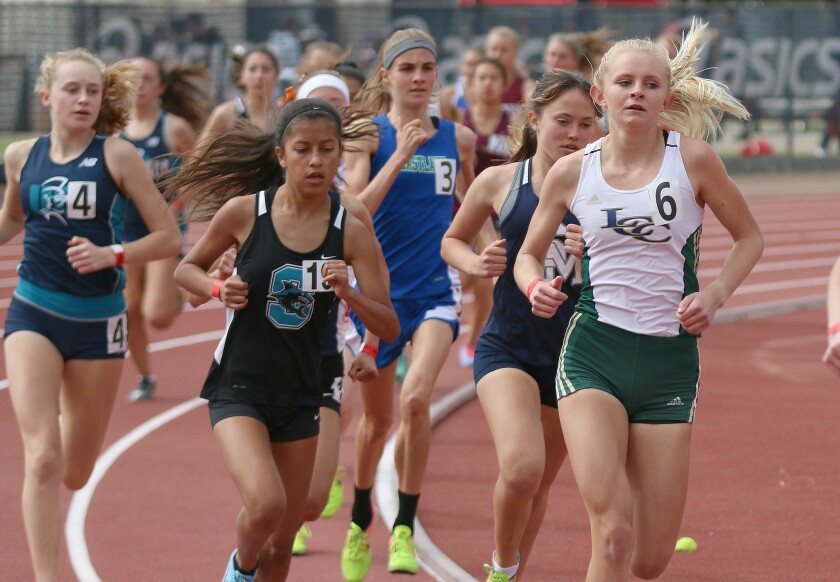 When the 2018 CIF Track & Field finals roll around on Saturday, May 26 at Mt. Carmel High School, Coach Bob Sisler's La Costa Canyon squad will have no shortage of upper echelon, championship caliber entries in the field.
Quarter miler Karson Lippert, distance running twins Jacob and Garrett Stanford, Kristin Fahy (3200) and Jessica Reidman (800) are all threats to triumph in their specialties. But nobody will come into the post-season any hotter than senior McKenna Brown.
The two-time defending 1600 champion won that event with a stirring stretch run at the prestigious Arcadia Invitational the first weekend in April and then, April 27, ran away from the field in the 3200 at the Escondido Invitational, posting a new section record of 10:15.97 while running the distance for the first time this season. She's primed for a magical finish to her prep career with not only the CIF but the State Championships still on her radar.
"I'm so happy for her because this is the first time she has had a full season without an injury," said LCC distance coach Bill Vice. "I didn't see that 10:15 coming at Escondido, but I'm not surprised.
"She works so hard. Her work ethic is incomparable to almost anyone I've ever had and we've had some talented kids. You just don't find many high school kids with a passion that are driven like that. I think you'll only see her keep improving in college."
Targeting the 1600 and possibly the 3200 at the CIF meet, Brown spent time recently talking to the Encinitas Advocate about her short-lived attempt to be both a pole vaulter and distance runner at LCC, her goals at CIF and what she wished she would have known as a freshman.
Q—What kind of athletic background is there in your family?
BROWN—Well, my dad (Charles) was a pole vaulter at UCLA. My older brother Kyle is at Yale and younger brother Garrett is a freshman at La Costa Canyon. They're both pole vaulters (Kyle is the LCC school record holder and Garrett recently became the school's freshman record holder). My mother, Angela, ran in high school and still does. That probably has something to do with me going in that direction. I actually began as a pole vaulter in middle school as well.
Q—That seems like a pretty unusual switch—pole vault to distance running—how did it occur?
BROWN—Well, I came to LCC for the distance team but for one year pole vaulted as well. I met a lot of friends running and realized that I liked to run a lot more than pole vault. I also found out I couldn't do both. There just isn't enough time to practice and I found I didn't do much training as a pole vaulter. At the meets, it also turned out to be almost impossible to transition from one to the other, particularly during dual meets, so I eventually stopped vaulting. I'm still the LCC girls' record holder at 11-feet though.
Q—So how did you get your start as a runner?
BROWN—I played soccer and did gymnastics when I was younger. When I got to middle school, my parents encouraged me to go out for track. I tried every event. In eighth grade, I joined a middle school running club called the Junior Mavericks. I looked up to the big names like Abrahamson (Emma/Ellie) and Fahy (Darren/Steve) from LCC. They were a big inspiration.
Q—How do you handle both cross country and track?
BROWN—It's definitely hard being on both teams because there's not really an off-season. You go right from cross country to training on the track. It takes a toll on your body if you don't manage it properly.
You also have to have good time management to make it all work with your classes and homework. That's something that I don't think I've ever fully mastered. I would like to get more sleep but with AP classes, a good night is getting to bed by 11 p.m. I think I'm getting better at it though.
Q—Which is your favorite?
BROWN—I definitely prefer track. I like to run on the track and the races are shorter. But I really like both, particularly the team aspect of cross country. It's mentally challenging too. You're running 5K, there are hills (which I don't exactly like) and you're running for more than yourself—on days when you don't feel good, you do it for the team.
Track & field is more individual but you still have the team there. In track, we don't do a huge amount of distance training but a lot of faster/interval-type workouts. I also probably like it more because I've done better in track but that's mainly due to injuries.
Q—You have two other very high caliber distance teammates in junior Kristin Fahy and senior Jessica Reidman. What is the relationship between the three of you and how do you effect each other's performances?
BROWN—It is really fun. It's great to have two of my best friends to train with every day. I can't imagine having gone as far as I have without having teammates like them there to push me. I push myself because of my teammates. It's also motivating to sometimes have at least one of them in a race with me. It makes it seem like practice and brings the nerves down.
It's hard when one of us is injured—hard to sit out when the others are training. I've had to do that and Kristin went through the same thing during this past winter. It changes when all three aren't there.
Q—What do you consider your strongest attributes as a runner?
BROWN—I have a good work ethic and I think I'm really focused. I'm equally dedicated to school and running. I think my running is important so I've sacrificed a lot and don't have as much free time as a normal high school student might.
Q—Do you think you've learned more from school or running?
BROWN—I feel like I've learned more about life in my sports. School is great and important but some of the things we do don't seem applicable to anything. I've learned so much about myself running. When you're at your darkest you find out what you're capable of. It's made me mentally tougher.
Q—The 800, 1600 and 3200 meters are the racing distances in high school track. Which is your best and which do you prefer?
BROWN—The 1600 is my best right now, pretty much because that's what I've focused on since my sophomore year. It's a good in-between distance that takes both speed and endurance—you need to have a little of each. It's also my favorite race for sure. I ran the 3200 for the first time this year at Escondido two weeks ago and surprised myself with the section record. I feel like I could potentially run both at CIF.
Q—What meant more to you, winning at the Arcadia Invitational or the two CIF 1600 titles?
BROWN—That's a tough one. The most special was probably Arcadia—nothing has ever been like that one for me. My dad and I went to that meet when I was an eighth grader and I was so inspired watching all the great runners. I never could have imagined myself doing that—breaking the tape was incredible.
But, CIF was also really special—especially two times in a row, that's not a common thing. That second one, I had been running through injuries all year and I didn't know if I could do it. It's also so cool having teammates in those races and trying to help my team win.
Q—What is something you know now that you wish you would have known as a freshman?
BROWN—Just to be patient, I guess. When I was a freshman, I wanted to achieve every goal right then. I over-trained and would be hard on myself. If I had to do it over, I would focus on long term things more.
Another thing along those lines, would be understanding the need to do proper recovery. My first two years were a real learning experience. I needed to learn that training has to be accompanied by things like stretching, icing and rolling out. When I figured it out and was able to train consistently, the times dropped.
Q—What are your goals for the upcoming Avocado West League and CIF Championships?
BROWN—I'm not sure how league will go. We want to do well as a team but it has kind of been in the back of our minds because CIF is the most important. The league meet is sort of like the CIF prelims—it's all about qualifying.
When we get to CIF, I think we will definitely be a contender to get another team championship. It will be hard but not impossible. That's the goal. Personally, my goals are to stay healthy, have a good base of training and give myself the best chance to do well and defend my title by winning the 1600 for the third time.
The CIF record in the 1600 is 4:41 and that's my top goal for the season. Doing that would be amazing. The CIF meet would be the spot to get it because the state meet is more about placing.
Q—If you couldn't be a distance runner, what other track & field discipline do you think you might be successful at? Which would be the most problematic?
BROWN—I would probably go back to pole vault. I also really like the 400. I used to be on the 4x400 relay team a lot and I love the 400. I think it's actually the most fun race. It would be cool to see what I could do.
Anything with throwing, like the shot put or discus, would be pretty difficult for me. I don't think I could do that. I tried it in middle school once and I was the worst on the team.
Q—You're a straight 'A' student. What has been your favorite class at LCC and what are your academic plans after graduation?
BROWN—I really like biology and am into environmental science. One of those might be my major next year. I'll be going to UC Berkeley and running both cross country and track. I might get into a pre-med program and potentially be a doctor.
Science is my favorite subject but as far as my favorite class, this year it's been AP Psychology with Mr. Etheridge. I've been able to apply it to my running—how the mind influences behavior. That has a lot to do with performance for a distance runner.
Q—What do you like to do in your spare time?
BROWN—I really like to swim. Whenever I'm bored, I like to go down to the pool and swim 30-60 minutes, probably two miles or so. I try to go at least two times a week because it helps with both recovery and aerobic capacity. I also think it makes my legs feel better.
Aside from that, I like going to the beach. Also painting and drawing which are very relaxing. I really don't have that much free time but I kind of like being busy.
---