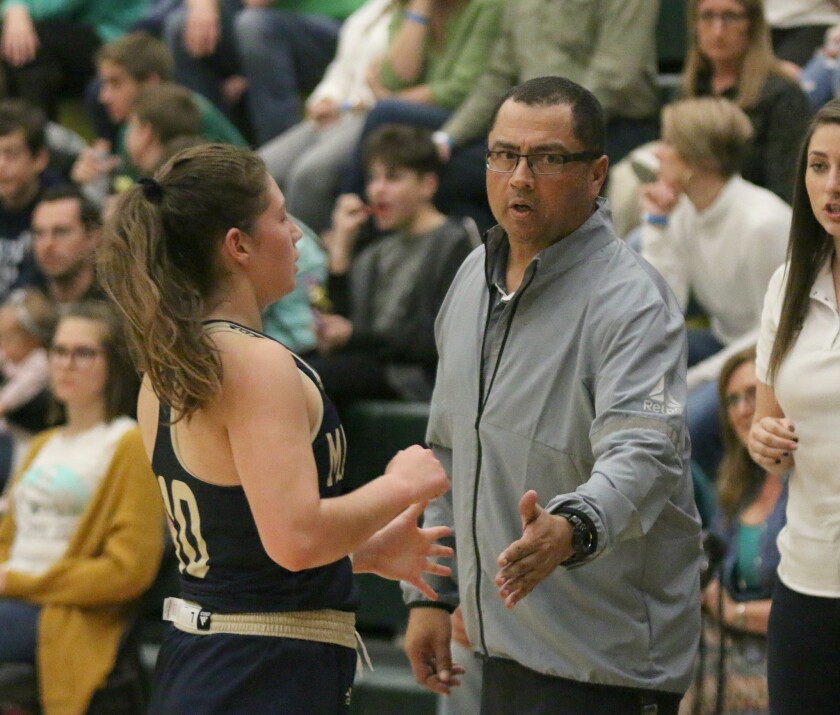 CIF San Diego Section Playoffs begin this week in boys' and girls' basketball and soccer and after breezing to a 10th consecutive league title by posting a perfect 10-0 mark in the Avocado League West, Coach Mario Flores' La Costa Canyon girls' basketball squad will be hunting for a bigger prize when it begins CIF Open Division play Saturday at nearby Santa Fe Christian (19-3).
The Mavericks, who ended the regular season with a 22-5 mark, are no strangers to post-season play but aftergetting knocked out by Bishop's in the first round last season are looking to stick around a little longer. One of LCC's five losses came two days before Christmas, a 52-46 decision at the hands of the same Santa Fe Christian club it faces Saturday. Revenge would be an obvious motivation but Flores has a deep roster, good senior leadership and the versatility to compete with anybody. He knows what to expect in this one.
"Santa Fe Christian is a well-coached, veteran team that will challenge us to out-execute them," said Flores. "They have great guard and post play. We're going to have to slow them down and limit their shots to 'one-and-done.' Last time we played them we gave up too many second chance points.
"As a team, we need to stay focused and not panic. Every game in this tournament will be tight, so we must execute on every offensive and defensive possession." La Costa Canyon is led by seniors Kaylee Berry and Colleen Haggerty as well as junior Alexis Michain, who was Avo West Player of the Year as a sophomore. The Mavericks also have a band of younger players who have developed into significant contributors over the course of the season.
The only other LCC team to earn a CIF Open Division bracket invitation is Coach Craig Dean's boys' soccer squad. A talented group that has been frustrated by its inability to consistently convert on offense, the Mavericks wound up, what was for them, a disappointing third behind Torrey Pines and Canyon Crest in the Avocado West standings. In a potentially good sign, Dean's side concluded its regular season with a 1-1 draw against undefeated Torrey Pines, the top seed in the CIF Open field. The Mavs are seeded fifth and will travel to fourth-seeded Poway for Wednesday night's CIF starter. A victory would pit them against the winner of Torrey Pines-Eastlake in the semi-finals.
North Coast teams in CIF action:
Boys' Basketball (first round games on Tue., Feb. 20, 7 p.m. except where noted)
La Jolla Country Day @ Torrey Pines Fri., Feb. 23
Cathedral Catholic @ Helix (D-I)
Lincoln @ Canyon Crest (D-I)
La Costa Canyon @ Rancho Bernardo (D-I)
Kearny @ Santa Fe Christian (D-I)
Valley Center @ San Dieguito Academy (D-III)
Girls Basketball (first round Open Division games on Sat., Feb. 24; all others on Wed., Feb. 21; 7 p.m.)
La Costa Canyon @ Santa Fe Christian (Open)
Cathedral Catholic @ La Jolla Country Day (Open)
Rancho Bernardo @ Torrey Pines (D-I)
Canyon Crest @ Vista (D-II)Monte Vista @ San Dieguito Academy (D-IV)
Boys' Soccer (first round games Wed., Feb. 21; all games 5 p.m. except where noted)
Eastlake @ Torrey Pines (Open)
Cathedral Catholic @ Canyon Crest (Open) 3:15 p.m.
La Costa Canyon @ Poway (Open)
San Dieguito Academy @ Helix (D-II)
Santa Fe Christian (bye, D-V)
Girls' Soccer (first round games Tue., Feb. 20; all games 5 p.m.)
West Hills @ Torrey Pines (Open)
Poway @ Cathedral Catholic (Open)
La Costa Canyon (bye, D-I)
Canyon Crest @ San Pasqual (D-II)
Mt. Carmel @ San Dieguito Academy (D-III)
---