Stellar season could leave SDA girls tennis with post season question mark
Is it possible for a team to play too well to reach its goal? The way the San Dieguito Academy (SDA) girls tennis team is performing this fall, it just might get a chance to find out.
The storyline got its origin last November when the best team in the 30-plus-year tenure of Head Coach Joe Tomasi fell, 13-5, to Cathedral Catholic in the finals of the CIF Division I Championship. The Mustangs, seeded No. 1 going in, were understandably disappointed and vowed, pretty much on the spot, to climb that final rung in 2018.
Junior Kennedy Urcelay, who plays No. 1 doubles, says, "We came back this year and said 'we're going to win CIF.' That was the plan. We were so close last year we could taste it." Her doubles partner, senior Lauren Bear was even more emphatic.
"We're on a revenge tour this season," she said. "I was bummed when we lost last year but knew our team did the best it could and that's all we could ask for. Since that day, we've been super-motivated to get back to the final and win."
With the entire lineup returning intact and some capable freshmen thrown into the mix, it seemed a reasonable objective. The ledger turned in by Tomasi's charges so far in 2018 has shown how serious they are. After dropping the season opener to a talented Coronado squad, the Mustangs have been unbeaten and among their victims are quality squads like Eastlake, Rancho Bernardo and 24-time defending CIF Champion Torrey Pines. But the impressive run through a tough early season schedule and a very manageable remaining set of foes has created a potential quandary for the title-focused SDA girls.
The CIF utilizes a power ranking system within each division to seed its playoff teams. Given the results posted to date, San Dieguito would be one of the eight top teams in the section and, as such, assigned to the ultra-competitive Open Division Championship bracket instead of Division I. While SDA would likely be the favorite in the latter, it would face a much more challenging terrain in the Open. It's an interesting dilemma that Tomasi felt his team could face, just not this year.
"Our potential is over the top," said Tomasi. "I thought this might happen next year but it's coming together and happening now. The dream would be to get to an Open final. There's a long road ahead but we've jumped into the conversation.
"If we're in Division I, I'm confident that we could compete with anyone. There would be some pretty tough teams in the Open, but if we're there, we'll take our shot."
Although Tomasi has plenty of options, his typical lineup features sophomores Indya Nespor and Lauren Rose and freshman JoJo Bear (Lauren's sister) in the 1-2-3 singles slots. Holding down the two doubles positions behind Urcelay and (Lauren) Bear are senior Amber Tse-sophomore Leko Ritchie at No. 2 and some pairing of senior Sophie Getty, junior Kara Lund and freshman Lesa Ritchie (Leko's sister) at No. 3. Depth and team are two words that pop up often when talking to the SDA coaches and players. Tomasi credits the former for his squad's rise to the upper echelon of the San Diego prep universe.
"We've never had this kind of quality depth and when you have that, you can beat even the top teams," said Tomasi. "It helps with our competitiveness because our players are always pushing each other. Everybody wants to play so the edge is there, it keeps them sharp. It's the best problem I can have."
Accentuating the team aspects of tennis is something that seems to come naturally at SDA, maybe because they have a good start in that category with three sets of sisters on the roster. It appears to be something they all thrive on.
"Tennis is often seen as individualistic, but on our team, it's so different," says Lauren Bear. "If you come to one of our matches, you'll see everyone cheering each other on. I just love that energy.
"I can remember a lot of matches where I was down and said to myself, 'We're not going to win the day if I don't win this point or this set' and that helps me overcome it—the motivation to win for the team and not just myself." Urcelay has similar sentiments.
"It's almost all the same people but I think we're a lot closer this year and working as a more coherent team," said Urcelay. "When you want to succeed as a team, it makes everyone work harder.
"Even though we all play our individual matches, at the end of the day, we're playing for the team so everyone works toward the same team goal." But any team, no matter how deep, has to factor talent into the equation at some point to reach the pinnacle.
There's a good measure of that at SDA, starting with Nespor. The 5-foot-7, 15-year-old Encinitas native picked up the game in Holland, where she moved as a five-year-old, but didn't begin practicing more than once a week until about two years ago, shortly after returning to the U.S. Also a competitive swimmer she decided to concentrate on tennis and stepped right into the cast at San Dieguito as a freshman.
"I like tennis because it's a physical sport where you really get tired," says Nespor, who ranks Spanish star Martin Del Potro among her favorite players. "I like to run and enjoy the fact that tennis is a very complicated sport, but once you get it, it's easy."
Agile and forceful on the court, Nespor reminds one of a high school girls' tennis version of an NBA small forward with her quickness, length and athleticism. "I have a more aggressive style than a lot of other players, I want to hit it hard and finish it," she said. "I'm not as consistent as I'd like but I just don't like long points.
"I would say my forehand and placement are two strengths and I try to use those to make quick points." Despite having sharp focus on her own play, Nespor understands and is part of the Mustangs' team-first orientation.
"For me, first I try to help the team by winning my match," says Nespor. "After that, I try to do whatever I can to help others win, whether it's encouraging them during matches, hitting with them after practice or just being supportive in general.
"I think, actually, we are one big group more than a bunch of individuals like a lot of other teams. Everyone is friends with everyone else and that shows up on the court." Which brings us back to the Division I-Open Division predicament that Nespor and her teammates could soon be facing. The nuances in the various points of view, even within his own team, were summed up by Tomasi.
"Last year's CIF finish was the best we've ever had and for the girls, I know going back to D-I and proving a point—that they shouldn't have lost—is important," says Tomasi. "On the flip side, I would like to see us be the first team from SDA to get to the Open tournament. If we could get there and make a run, who knows what could happen."
Either way, it promises to be a memorable ride.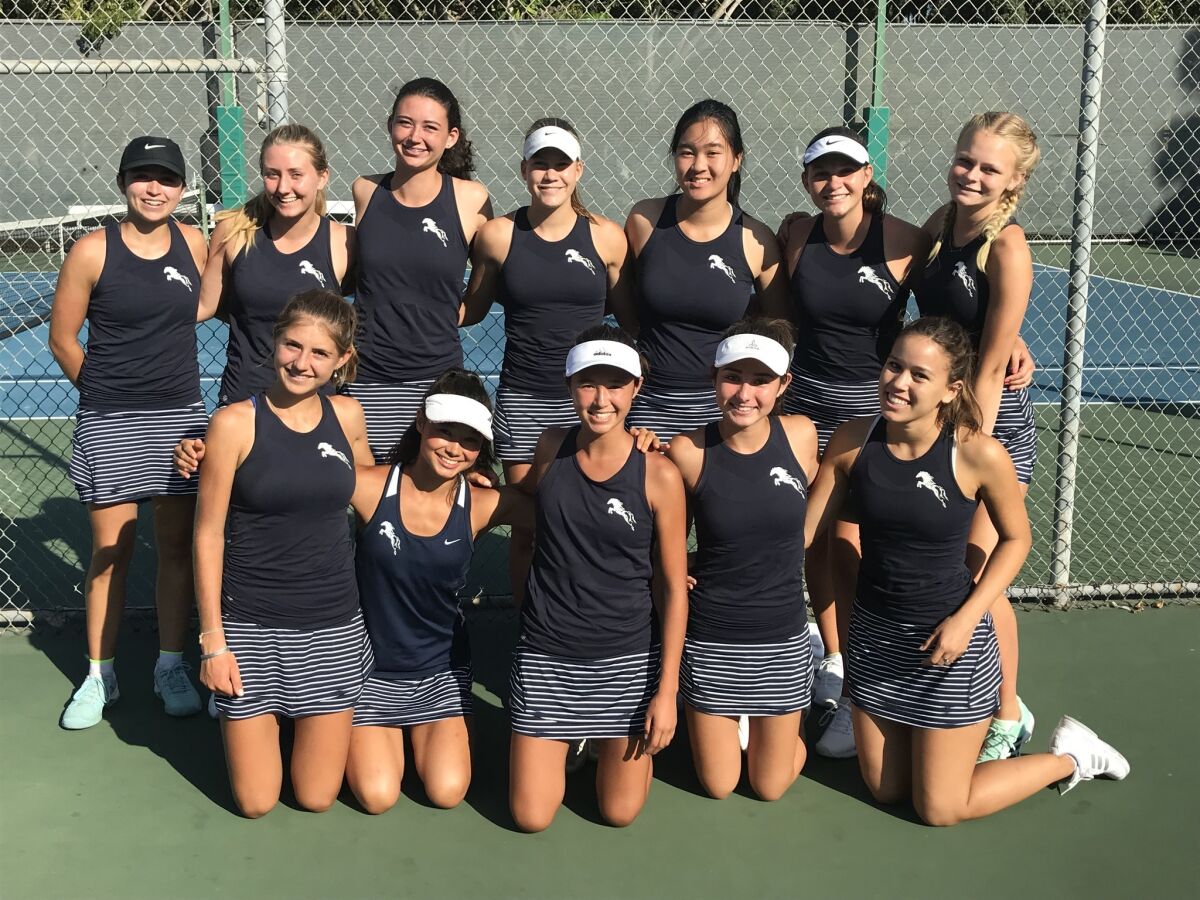 ---
Sign up for the Encinitas Advocate newsletter
Top stories from Encinitas every Friday for free.
You may occasionally receive promotional content from the Encinitas Advocate.