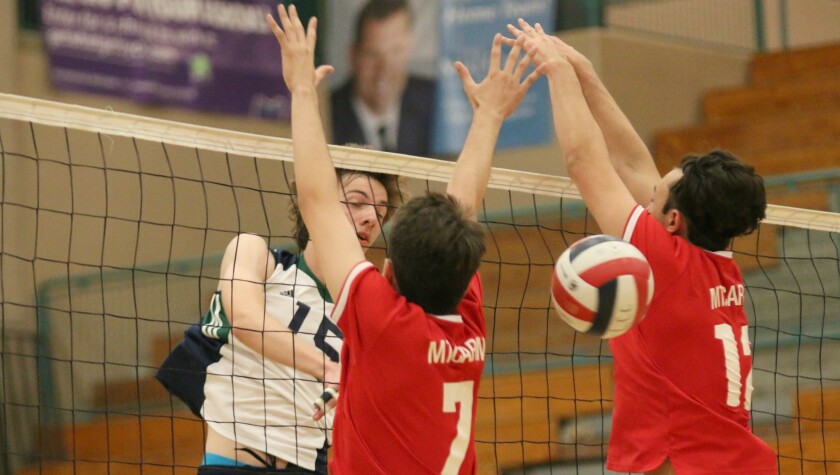 Coach Mark Brubaker's second-seeded La Costa Canyon boys volleyball team came into Tuesday night's CIF Open Division opener on a roll, having won nine of its last 10 matches. Visiting seventh seed Mt. Carmel did little to slow that momentum, falling 3-0 (25-16, 25-16, 25-14) to the Mavericks in just over an hour.
Senior Camden Gianni hammered 15 kills to pace LCC which took control early and never really took its foot off the pedal. The 6-4 Grand Canyon bound Gianni served up the first four points of game one and the bigger, stronger Mavs soon had the Sun Devils reeling at 10-4, unable to muster much offensively. Three of Mt. Carmel's first four points came courtesy of LCC service errors.
Mt. Carmel scored the first two points of the second set but six straight service points by Gianni quickly erased any thoughts the visitors had about a different outcome and it was more of the same in the third game where La Costa Canyon burst out to a 9-2 advantage and never allowed the Sun Devils to get closer than five the rest of the way. The victory lifted LCC's season ledger to 26-7 and it was just the kind of start that Brubaker envisioned for his side.
"The first playoff match is always a tough one, just getting back into competition," said Brubaker, owner of 12 CIF crowns as the Mav's head coach and whose 2017 club was the Open Division runner-up to La Jolla. "We came out with some energy and were pretty focused. We played some sloppy volleyball at times but started each set playing pretty strong and kept things under control.
"A lot of the points Mt. Carmel scored we gave them. We talked about that in our huddle. Our goal is to clean that up—clean up our end of the court. I thought we did a better job of in sets two and three."
Gianni and senior middle blocker Colin Lovejoy were virtually unstoppable. Lovejoy added eight kills and the two posted a monstrous combined hitting percentage of .700. They had plenty of help. Junior setter Ayden Cole dished out 33 assists, senior Jake Robbins contributed six kills and six of the Mavs' eight aces and junior Nick Vanags chipped in with nine kills.
Like his coach, Lovejoy was happy to have the first one out of the way. "Yeah, I think it was really helpful to not only get the win but play the way we did. It shows everyone we've come to play and this is going to be a good year for us," he said. "I think we were the more focused team and more successful offensively. We talked about not taking any plays off and being driven to make sure every play is our best.
Next up for the Mavericks in the double elimination tourney is third-seeded Westview (25-8) Thursday night (7 p.m.) at San Dieguito Academy. The teams split their two regular season encounters, LCC recording a 2-0 win at the Beach Cities Invitational and Westview returning the favor four days later with a 3-2 decision at LCC.
Brubaker feels his charges are moving in the right direction. We're getting there," he said, "but we're still a work in progress. I won't say we're actually there until we make the finals."
---