LCC-La Jolla set for boys CIF volleyball title rematch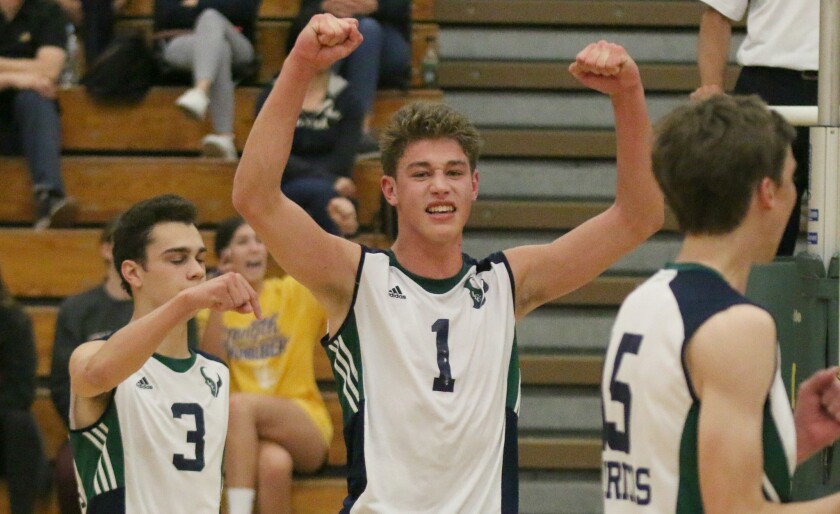 After wading through a laborious double elimination format in bracket play, it will be winner-take-all Saturday, May 19, when second-seeded La Costa Canyon (28-7) takes on defending champion and top seed La Jolla (34-5) in the CIF Open Division Boys Volleyball Championship at St. Augustine High School. First serve is scheduled for 6 p.m.
Tuesday, Coach Mark Brubaker's La Costa Canyon squad earned its spot in the final by defeating third-seeded Westview for the second time in five days while La Jolla eliminated fifth-seeded Sage Creek Thursday night, after losing to the Bobcats on Tuesday.
As in their first post-season encounter, it took the Mavericks four sets to overcome a stubborn Westview outfit. The line score this time was 3-1 (23-25, 25-10, 25-23, 25-20) and the Wolverines made LCC work for its prize.
It looked like business as usual when the Mavs bolted out to a 12-6 lead in game one but Westview scored four straight points to narrow the gap to two and kept chipping away to get its first lead at 16-15. The Wolverines pushed the lead to four at 21-17 but three straight service points by LCC senior Camden Gianni brought his team back to within one. La Costa Canyon knotted the game at 22 but was unable to get over the top dropping the set, 25-23. With a loss meaning a third match two days later at Westview, Brubaker & Co. seemed to grasp and respond to the significance of the moment.
"It's really hard to have to see the same team twice within a week, especially a good team like Westview," he said. "It's even tougher knowing that if we'd have lost, we would still have another chance on Thursday—but nobody wanted to go to Westview on Thursday."
Gianni, the power-hitting, big serving, go-to-guy on the home side of the net surely didn't want to make the trip and opened the second set emphatically with a crater-making cross court kill and a solo stuff block. Minutes later, another Gianni kill put LCC up, 7-2, and things quickly unraveled for Westview. A mini-run had the Mavericks cruising at 17-7 and the set really wasn't as close as the 25-10 finale.
Game three looked like more of the same when LCC burst out to a 5-1 lead but again Coach Michael Amonette's Wolverines clawed back, moving ahead for the first time at 7-6 and eventually owning a 16-13 advantage. La Costa Canyon drew within one several times and finally tied it at 19 and survived a few shaky moments before closing it out. The decisive fourth set started as a back-and-forth affair but the Mavericks eventually created an opening at 15-10 and in the blink of an eye, Gianni served seven consecutive points, it was 22-11 and all but over. The LCC star felt his team did what it needed to do.
"That first set is a great example of our mentality coming into tonight," said Gianni, who led all players with 19 kills. "We knew we could beat them but didn't know how hard we would have to push ourselves.
"I think the second, third and fourth sets were the result of us fighting back, playing like we knew we could and making sure we punched our ticket to Saturday."
There were plenty of others taking some of the pressure off Gianni. Senior outside hitter Jake Robbins pounded 16 kills, junior sparkplug Nick Vanags added nine and 6-7 middle blocker Colin Lovejoy put down six. Junior setter Ayden Cole piled up 33 assists.
"I was very happy with the way we played and that we could win and advance without having to worry about playing an extra match," said Brubaker. "That said, there are still some things we need to improve on if we want to beat an outstanding team like La Jolla." The two teams have not met since last year's CIF Championship tilt, a contest that the Vikings won 3-2, taking the fifth set, 15-13, after LCC had battled back from a two-set deficit. With 11 victories in its last 12 outings, Gianni feels his team is ready and knows what it will take to produce a different outcome this time around.
"We have a great idea who and where we are, especially with the way we have played the last three or four weeks," he said. "It's going to take everything we have. We've been doing a great job passing, our middles have been getting teams out of system when they don't get a kill, Nick and Jake have been putting balls off the block and finding empty holes in the defense, Ayden has distributed the ball and made our offense harder to predict and Lance (libero Lance Muret) has been digging balls unbelievably. I just try to be there to pick up the pieces." And maybe some new hardware for the LCC trophy case Saturday night.
---
Sign up for the Encinitas Advocate newsletter
Top stories from Encinitas every Friday.
You may occasionally receive promotional content from the Encinitas Advocate.