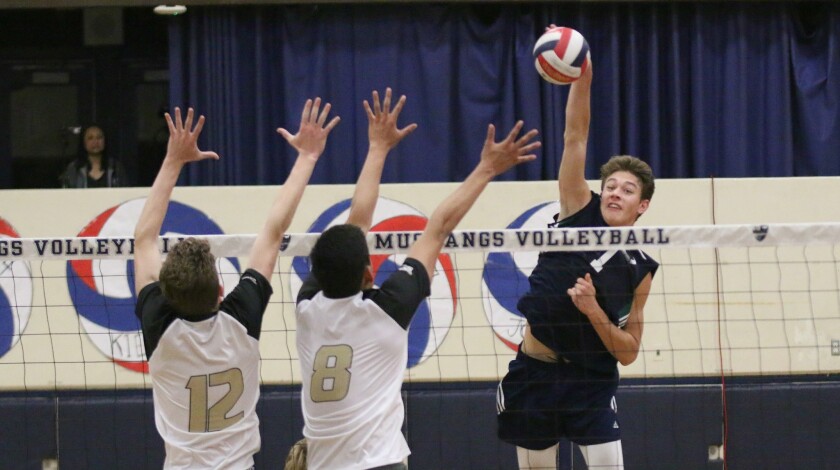 Looking every bit ready for the moment, the second-seeded La Costa Canyon boys volleyball team blew past third-seeded Westview 3-1 (25-19, 25-19, 20-25, 25-20) in Thursday night's CIF Open Division second round contest at San Dieguito Academy. The win lifted Coach Mark Brubaker's Mavericks to 27-7 on the season and puts them into the semi-finals of the double elimination tournament at home next Tuesday. Westview, which has lost two of its three meetings with LCC this year, drops into the consolation bracket.
Junior setter Ayden Cole handed out 44 assists and had his choice of effective weapons. Offensively, senior Camden Gianni set the tone for LCC in terms of volume (21 kills) and impact—many crushed in the manner that tends to discourage those on the receiving end. Fellow senior Colin Lovejoy (10) and Jake Robbins (8) and junior Nick Vanags (9) accounted for 27 kills and the quartet combined to post a sterling .463 hitting percentage.
Even the hard-to-please Brubaker was relatively content. "We started out really, really well," he said. "Those first two games we were playing hard and staying focused.
"The third set, we let things slip a little bit, kind of sat back. It's hard to stay focused for an hour and a half or two hours and close out that third set of a match, even at the pro level. We got a little sloppy and lazy—not physically, but mentally. We've got to be prepared for that mental aspect."
In game one, the Mavericks got up 15-10 but Westview put together a nice run to deadlock the score at 15. LCC countered with four straight, two on Gianni aces, and coasted to the win. They carried that energy over to the second set rushing to an early 7-2 edge, largely on a rash of errors by the Wolverines. The visitors finally settled in but were unable to dent the Mavericks lead before falling behind, 2-0.
Westview led from the outset in the third, taking their largest lead at 18-11. La Costa Canyon made a late surge, narrowing the gap to 20-18 but a service error halted their momentum and the Wolverines finished with confidence. LCC responded strongly, going wire-to-wire in the decisive fourth set, scoring the first three points and forcing a Westview timeout a 8-3. The Wolverines reeled the Mavericks in, getting to within one at 13-12 but could never draw even. An ace by Jake Robbins gave LCC a 19-14 advantage and Brubaker's charges cruised home from there.
In addition to his numbers, Gianni was a man-in-motion on the court—directing, pushing and motivating his teammates—displaying the type of on-floor presence that Brubaker had hoped the naturally quiet senior could deliver. "Camden has really stepped up as a leader these last few weeks," said Brubaker. "It's not necessarily a role he's always been comfortable playing, but it's made a big difference."
There was a simple stimulus for Gianni. "I really want to win," said the 6-4 outside hitter. "That's been our main goal all year and it's time to put the foot to the pedal and close the season out the right way." He's also been bringing his newly-demonstrative ways to the training gym.
"We have the entire gym to ourselves now that the JV and freshman teams have finished their seasons," he noted. "I'm trying to make sure that there is no messing around, everyone's dialed in and we are mentally focused and ready."
The victory means the Mavericks will have the weekend off, instead of having to play Saturday, a fact that may have, at least subliminally, provided a little incentive. "Saturday is the LCC prom," chuckled Brubaker. "I'm not sure how much effect it had, but this clears the calendar and I'll take any little extra motivation I can."
As for Gianni, his mind is plainly driven by the next match. "It was important to win and get the bye in the schedule but at the same time, we still have business to take care of," he said. "We have to go to work on Monday at practice and between now and then do the little things like rest our arms and legs, ice and be prepared mentally and physically for Tuesday."
---