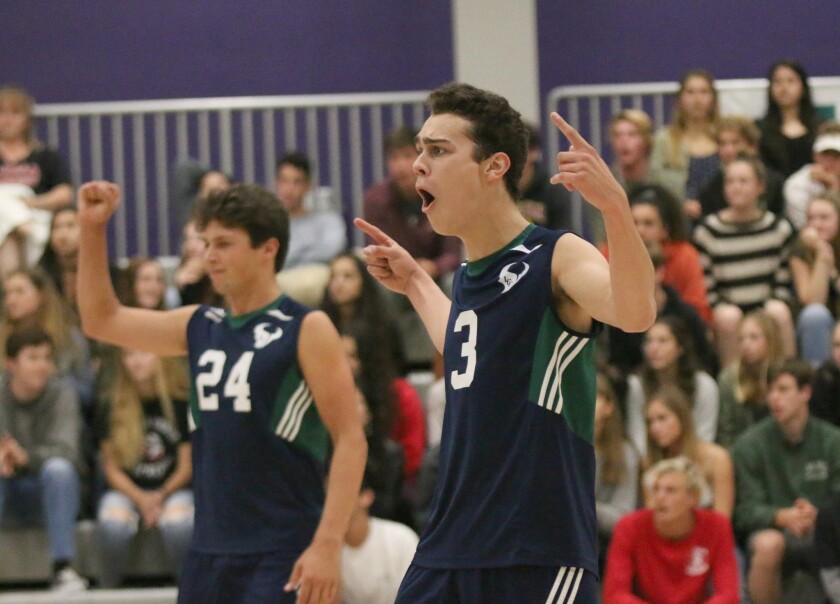 To end a season that had its ups-and-downs, it only stood to reason that the La Costa Canyon boys volleyball team would have a rollercoaster ride of a championship match before defeating defending title-holder La Jolla 3-2 (25-18, 20-25, 24-26, 25-23, 15-11) in Saturday's CIF Open Division final at St. Augustine High School.
The victory avenged the five-set loss Coach Mark Brubaker's Mavericks' were dealt by La Jolla in the 2017 championship contest. It also emphatically demonstrated just how far LCC has come since a mid-season stretch where the team's play was not always of "championship caliber."
"I'm really proud of them," said Brubaker, who has now directed LCC to 13 CIF crowns since 2000, the last in 2015. "They stayed with it and showed some toughness over this last stretch of the season that was on display out there at the end tonight."
The second-seeded Mavericks came out with guns blazing in the opening set Saturday, had La Jolla reeling from the first serve and looked like they might make short work of the top-seeded Vikings.
"Or guys were truly focused to open the match and maybe La Jolla was a little tired from having to play an extra match Thursday or under-estimated us," said Brubaker. "Whatever it was, they helped us get off to a good start but it didn't take them long to get it turned around."
After La Jolla regained its bearings and eventually the lead, 2-1, the Mavericks pulled things together and saved their season. Brubaker's message was matter-of-fact heading into the fourth set. "Basically, I kind of put it on them," he said. "I told them that they'd worked way too hard to get to this point and just give it away.
"We were beating ourselves. If we played the way we know we can and lose that would be one thing but to not make them have to work for it? That's not the way I'd want to see it happen."
Senior outside hitter Camden Gianni, who led La Costa Canyon with 30 kills, knew it was a now or never scenario. "For me personally, I was feeling sick to my stomach—I thought we were going to get out of the third set with a win," he said. "We hadn't come back from a 2-1 deficit all year.
"But we had collectively prepared for this mentally since the beginning of the playoffs. We were ready for a dogfight and this definitely was." The Mavericks gutted out a two-point decision in the fourth, setting up a 15-pt. "tiebreaking" fifth game. Brubaker had confidence that his team could finish the job.
"A fifth set is anybody's ball game but I told them to be sure to make La Jolla earn every point," said Brubaker. "We have a strong core of seniors and guys—Camden, Colin (Lovejoy), Nick (Vanagas) and Lance (Muret)—who were on the team last year when we lost the final in five, as well as another senior, Jake Robbins, who transferred in. That kind of experience is invaluable in that kind of situation."
Gianni, LCC's leader on the floor, said, "I looked at my guys when we went out and said "we need to be the first to five, the first to 10 and ultimately the first to 15.' When we got the first point of the set, we were on our way." The Mavericks got not only the first point but five-of-the-first six and never trailed as the Vikings were undone by unforced errors, including six errant serves. When it was over, Gianni had no trouble putting his feelings into words.
"Overwhelming joy," said Gianni. "It's something you dream about experiencing with your team but never know how it will be until it happens. This is why I came to LCC, to win a CIF championship, and to do it at the highest level is amazing.
"To raise that trophy at the end and know we deserved it was incredible. Being able to come back and win against a good team that knows what it takes to win made it tougher, but even more satisfying."
Brubaker's squad will now advance as the No. 6 seed to the CIF SoCal Regional Championship where it will face Loyola (LA) Tuesday.
---