One and done for LCC in CIF girls volleyball playoffs
The situation was hauntingly familiar Saturday night. A talented La Costa Canyon girls volleyball team that came in 25-9 and seeded third in the CIF Open Division playoffs let a 2-1 lead slip away and with it their first round match-up with No. 6 Bishop's, 3-2 (25-21, 17-25, 18-25, 25-23, 15-12).
Coach Rachel Morris' Mavericks own wins over plenty of upper echelon opponents and in late September even had No. 1 ranked Torrey Pines on the ropes, 2-0, before eventually dropping a 3-2 decision. But lately, inconsistency and an inability to finish up matches have been issues.
"It's been frustrating," said Morris, in her first year at LCC. "We work on big sets quite often and for whatever reason, we get very tight in those pressure situations and become very predictable.
"It's been a constant thing that we've worked on over and over again."
Saturday's match couldn't have started off on a better note. Bishop's served and it was pass, set and a massive down-the-line kill by junior Sophia Tulino. The Mavericks rattled off the first three points of but nothing seemed easy from that point forward. Bishop's accounted for the next four and it was back-and-forth for most of the set. A back row kill by Tulino put LCC up, 19-18. They made it 20-18 but then, aided by consecutive aces, the Knights went on a 7-2 blitz to close out the game and take a 1-0 lead.
La Costa Canyon overcame an early four-point deficit to win the second set and went wire-to-wire in the third but despite the wide margins, the home team seemed to be grinding to prevail in both. The fourth was close early but a string of unforced errors by the Mavericks allowed Bishop's to open a gap midway through and the visitors held on to force the 15-pt. deciding session.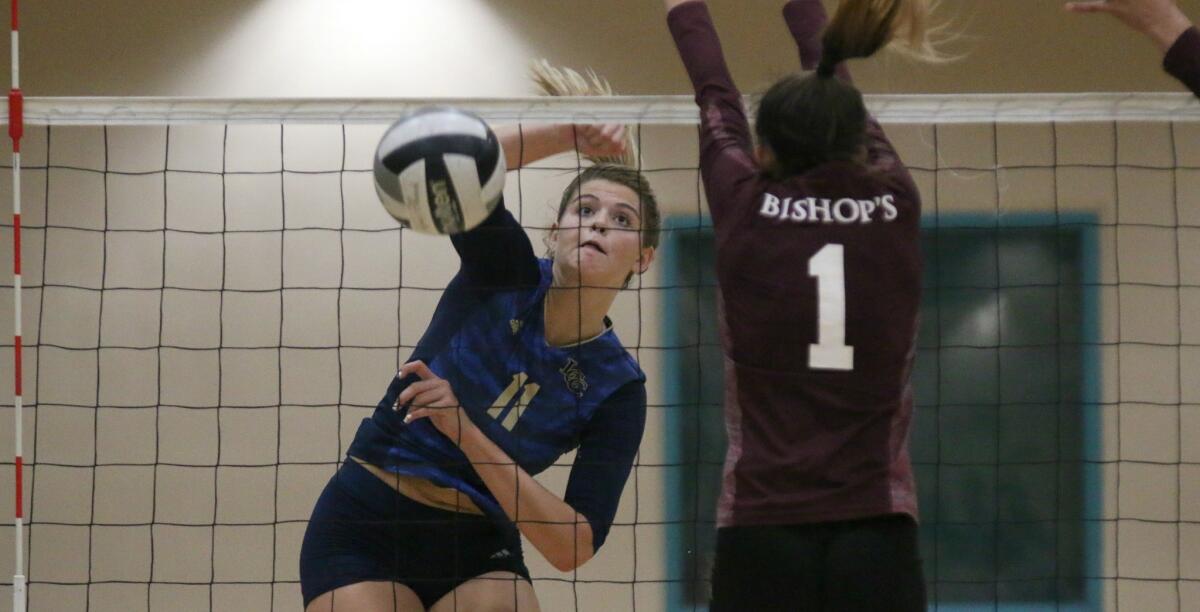 LCC struggled with its consistency from the start of the do-or-die fifth set and a kill off an over set put Bishop's on top, 7-4, forcing Morris to call a timeout. The Mavs responded, taking a 9-8 advantage. It was tied at 10-10 but the Knights reeled off four of the next five points to take command and ultimately put it away.
Tulino was a rock for La Costa Canyon with a game high 28 kills, two aces and two blocks. Senior Morgan Lewis chipped in with 19 kills and three blocks. Even with those numbers, the Mavericks' scoring game was shaky. Regularly getting into system was at the root of LCC's offensive instability.
"We definitely struggled passing, that's for sure," said Morris. "It seemed like we would get super tight towards the end of sets and if you're tense when you're passing, it just doesn't work. We didn't play our best match."
LCC's difficulties were also caused in part by the grit and confidence displayed by Bishop's, no matter the circumstance. Junior Brooke Buchner (14), freshman Brynne Faltinsky (13) and senior Athena Leota (10) combined for 37 kills to drive the Knight attack, which also gashed the Mavericks with 12 aces.
Bishop's moves on to face No. 2 seed Cathedral Catholic in Wednesday's semi-finals and both teams should have spots in the CIF Regionals following the sectional championship next weekend.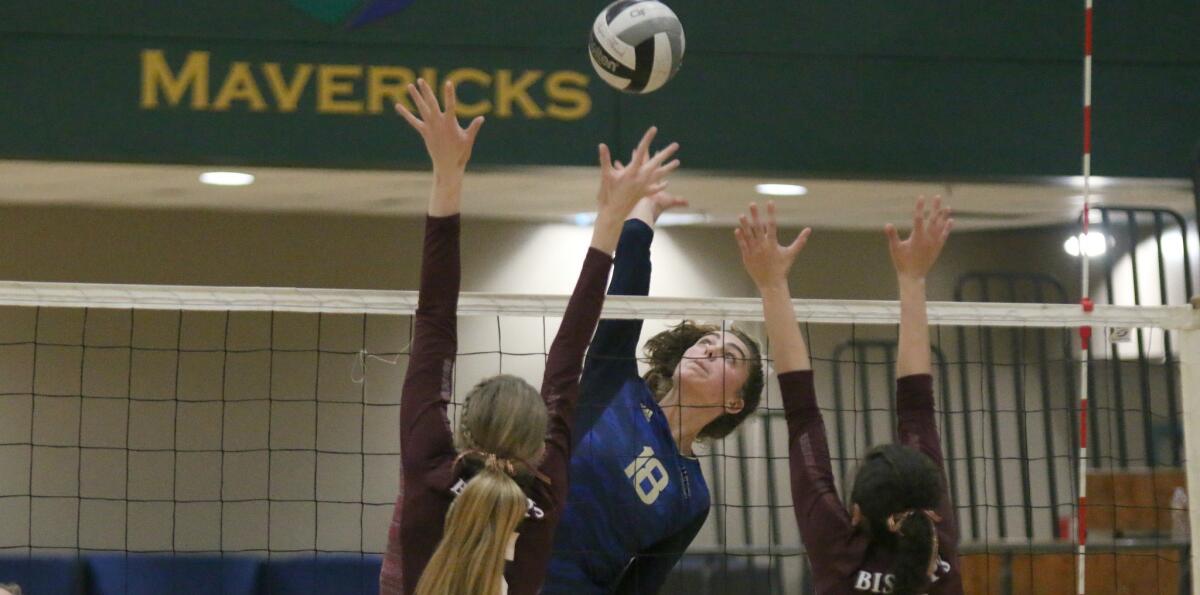 Sign up for the Encinitas Advocate newsletter
Top stories from Encinitas every Friday for free.
You may occasionally receive promotional content from the Encinitas Advocate.