'Every kid deserves to have a ball': Encinitas teen aims to level the playing field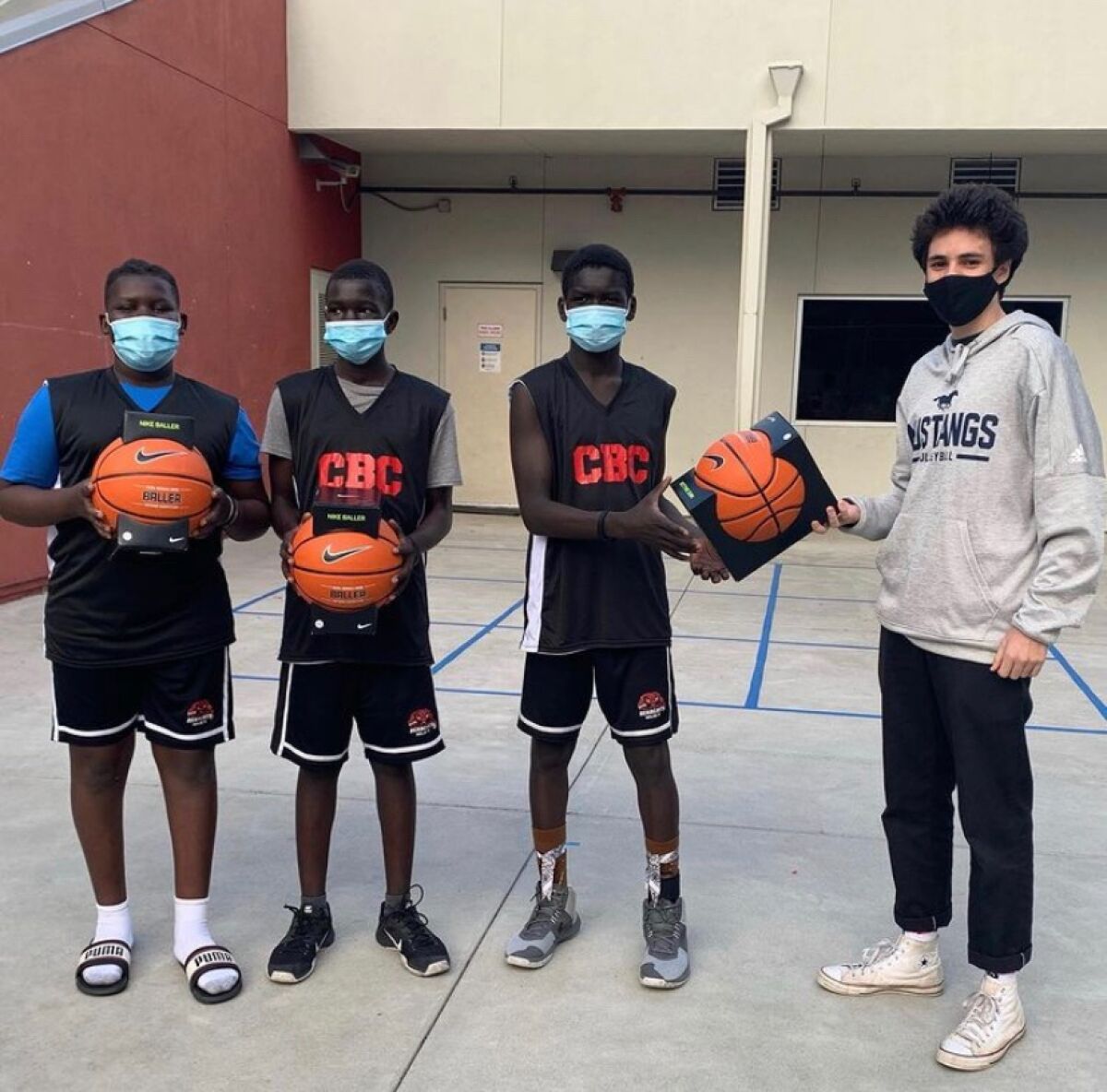 San Dieguito Academy High School student-athlete Marco Alvarez is leading in assists after starting an organization last year to give all kids an equal chance to learn and play sports. With Free Throwz, Marco is raising funds to purchase sports equipment for underprivileged youth throughout San Diego.
Marco, a junior at San Dieguito, started Free Throwz in May after all of his basketball and volleyball games were canceled in March due to the pandemic.
"During sheltering, I realized how absolutely important sports have been in my life and how they have shaped me in every possible way," Marco said of the positive effect sports has had on his character including learning about good sportsmanship in times of victory, dealing with defeats, leadership skills and how to create strong relationships by being a part of a team.
Growing up Marco had the opportunity to try every sport he wanted to play—he always had the right gear and guidance and could afford to play on teams. During those long months without sports, he came to realize that the playing field is not always equal.
"I could dribble on our driveway whenever I felt like it. Not all kids are that lucky," Marco said. "Free Throwz is working to help change this problem with our tagline as my goal: 'Because everyone deserves to have a ball'."
Marco believes that every kid deserves the chance to play sports for fun or with a team. During the pandemic, his goal has never been more important as there are very few outlets for kids to play sports.
Since May, Free Throwz was able to raise enough money through fundraising efforts on social media to provide sports gear to four organizations in San Diego County: The Boys & Girls Club of Oceanside; The Boys & Girls Club of Vista; Seeds of Hope, a nonprofit that serves low income and refugee communities in San Diego; and The Karen Organization, a nonprofit that serves immigrants from Myanmar.
Over the summer he learned that due to strict COVID-19 restrictions that do not allow sharing of equipment, organizations like the Boys & Girls Clubs were in need of more gear so every kid could participate in camps. At the Karen Organization, their sports programs were delayed due to the pandemic and kids were stuck at home without gear—he hoped the 12 basketballs he donated would bring some happiness.
As he reached out to more local organizations to find out their needs, he connected with his old basketball club the California Bearcats in October. The director of operations Brenda Corsi asked if Free Throwz could donate basketballs to three developmental players, refugees from Kenya and Uganda that the Bearcats are working with through a partnership with Seeds of Hope. Marco said it felt great to return to his old "stomping grounds" to donate balls and give other young players the opportunity to grow from the game as he did.
"It makes me feel good and fills me up inside," Marco said. "It makes me happy that I'm helping other people."
While Marco has volunteered at food banks and done beach cleanups in the past, Free Throwz has by far been his biggest philanthropic effort to date. His long-term goal is to be able to work with more organizations as he knows that there are still thousands more kids in need. He, too, has missed being able to play sports during the pandemic although he has been fortunate to be able to play some beach volleyball.
"Making sports available to all kids helps keep me going through these strange times," Marco said on his website. "Remember to be kind, be understanding and let's help each other out in whatever way we possibly can."
To donate or learn more about Free Throwz, visit FreeThrowz.org

Sign up for the Encinitas Advocate newsletter
Top stories from Encinitas every Friday for free.
You may occasionally receive promotional content from the Encinitas Advocate.