Encinitas Little League Intermediate team wins District, Section championships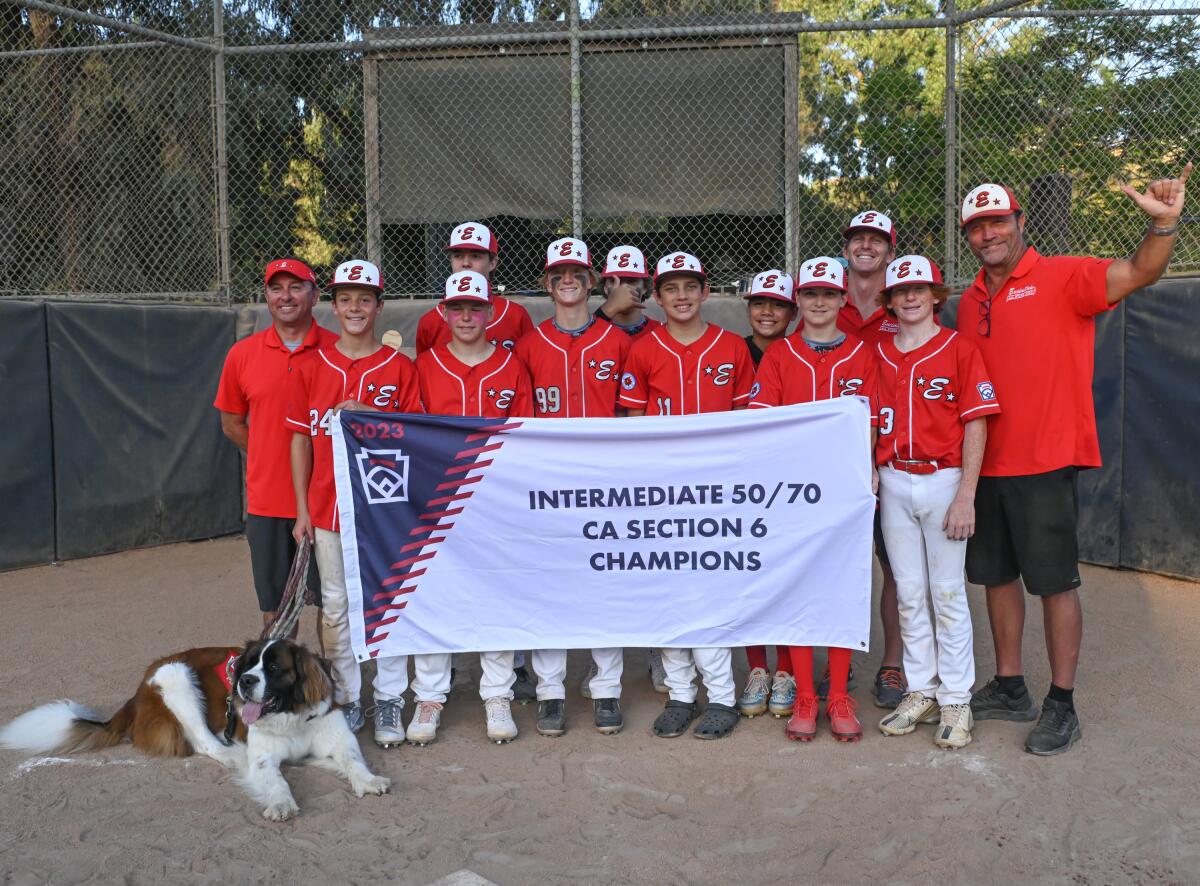 The Encinitas Little League Intermediate 13s are playing for the Southern California title, after taking both the District 31 and Section 6 championships.
These dominant Encinitas All Stars defeated Valley Center 15-5 in the District championship and took down Vista American 10-0 in the Section 6 title game. In this All Star season, the boys are undefeated in tournament play and have outscored their opponents 72-7.
"It's a huge accomplishment," said Manager Ted Haberfield, a past president of Encinitas Little League.
The squad includes Brooks Butler, Curren Haberfield, Madden Reinke, Devin Plutner, Declan Hand, Nikolaj King, Blake Larson, Christian Koch, Tanner Hellman, William Fredrichs, Bodhan Syder, Max Deliseo and Luke Moffett.
This particular group won District and Sections as an 11- and 12-year-old team but they didn't get past the semifinals at state for the last two years— they are excited and eager to return as 13-year-olds.
"They're just having a great, great season and playing well against good talent," Haberfield said. "A lot of them have played together for the last few years so the chemistry is starting to really kick in. It's something special to see, especially with young men hitting their teenage years. It's fun to see them play together as a unit."
Their experience playing together has a lot to do with their success, Haberfield said, along with focused practices on batting and pitching. Just like the big leaguers, the team has created their own unique home run celebration—players get to wear a red painted hard hat after a blast. Nala, power hitter Tanner Hellman's St. Bernard dog, is an unofficial team mascot, finding her way into team photos.
The team is also big in faith too, praying together before and after games.
"I just think their passion and desire to compete gives them the energy to get up and get out there every day," Haberfield said. "The unity that they have and the friendships and bonds that they've been able to create allows them to communicate effectively."
Next up for the boys is the Southern California Tournament in Ventura, a 10-team double-elimination tournament running July 7-15. As of press time, Encinitas was continuing its winning ways, beating Aliso Viejo 12-1, blanking Dos Pueblos Little League 10-0 and defeating Sweetwater Valley on July 10.
If ELL wins the SoCal Tournament they will move on to the West Region Tournament in Nogales, Ariz., July 20-27. If they win Region, they will advance to the World Series.
Sign up for the Encinitas Advocate newsletter
Top stories from Encinitas every Friday for free.
You may occasionally receive promotional content from the Encinitas Advocate.