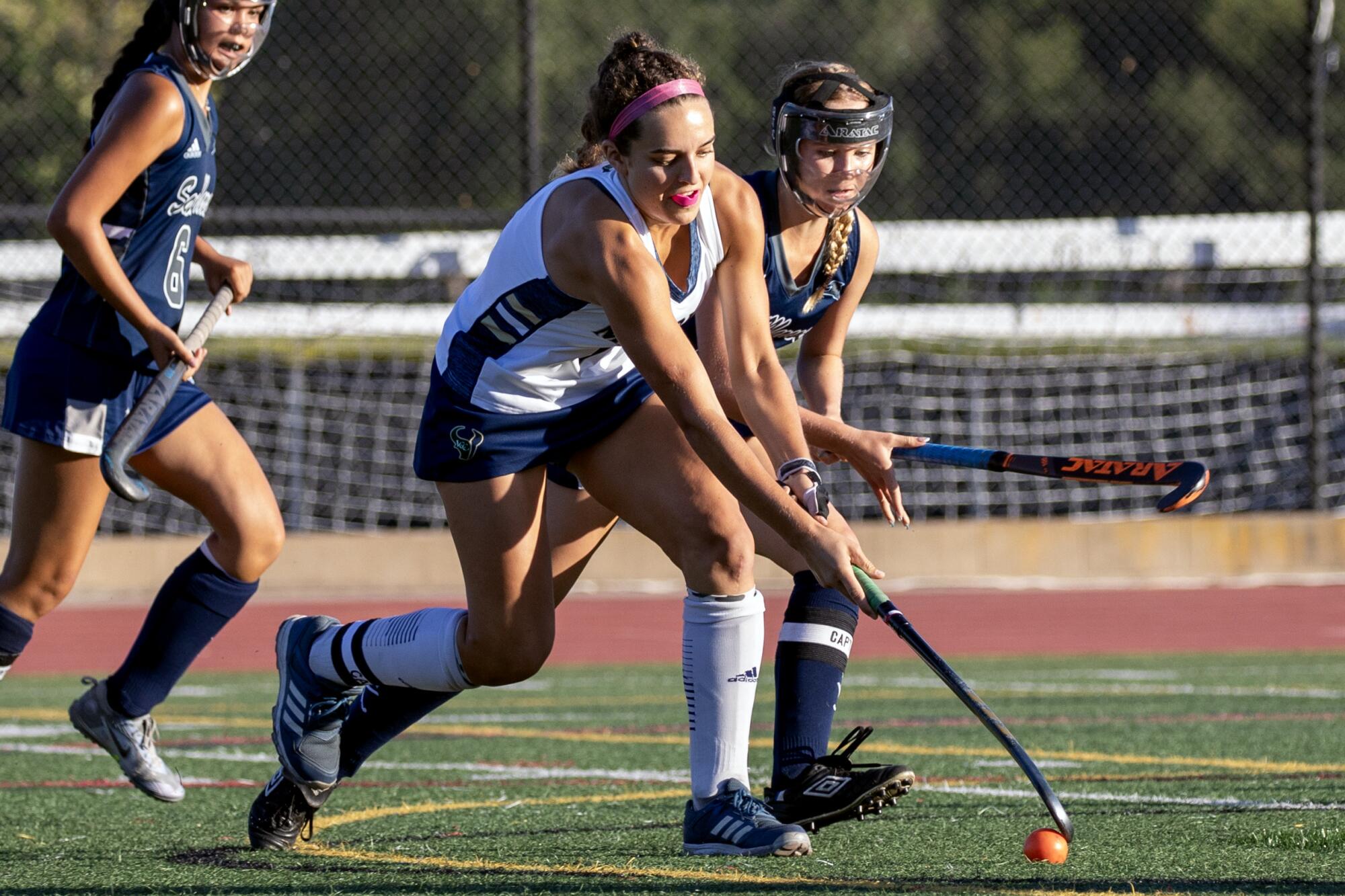 Mia DiGiulio, who has committed to Cal, welcomes playing sports for her parents; 'It's an awesome experience'
Playing for your parent can work well in elementary school.
After that, it takes a special bond — and a mountain of mutual respect — to avoid the terrible-teen clashes.
Everywhere Mia DiGiulio looks, there is potential for major conflict.
Her mother, Kari, is La Costa Canyon High School's field hockey coach and athletic director. Her father, John, is the Mavericks' girls flag football coach.
Even her fans have credentials. DiGiulio's grandfather, John Labeta, cheers DiGiulio on when she plays field hockey and flag football. Labeta coached Kari DiGiulio's softball team at Serra High School (now Canyon Hills) before he being named assistant commissioner of the CIF San Diego Section. He's currently commissioner of the North County Conference.
"The thing about Mia is she's extremely coachable," said Kari DiGiulio, whose team — led by Mia — is ranked No. 1 in the section, No. 2 in the state and No. 7 nationally by MaxPreps.com. "I was coached by my dad, and the timing just fell into place with Mia. What makes it especially great is we have uninterrupted time. Through field hockey, we have a commonality, a shared passion, respect for the game. And we have fun.
"I never want to be accused of treating kids differently, especially my own, and that's always in the back of my head. But I don't need to worry about putting pressure on Mia, she puts that on herself."
Mia DiGiulio, who has committed to Cal, welcomes playing sports for her parents. She was named one of the top 40 field hockey players to watch by MaxPreps. She has scored eight goals with seven assists through the first six games, all wins.
"It's an awesome experience," said DiGiulio, a 5-foot-8, 17-year-old with a 4.2 GPA. "I've learned to love the game of field hockey and it has allowed me and my mom to bond. Field hockey is a game that is bigger than myself, and I get to meet new people. That's what makes it fun.
"My mom knows all the ins and outs of how to get the best out of me. Our coach-player relationship is very unique. I can tell by the sound of her voice when she thinks I'm slacking off. My mom challenges me and occasionally we butt heads, but I know I'll look back on these four years of high school and cherish it. There is no time that I can't not talk to her, but I always expect more of myself. And she understands that."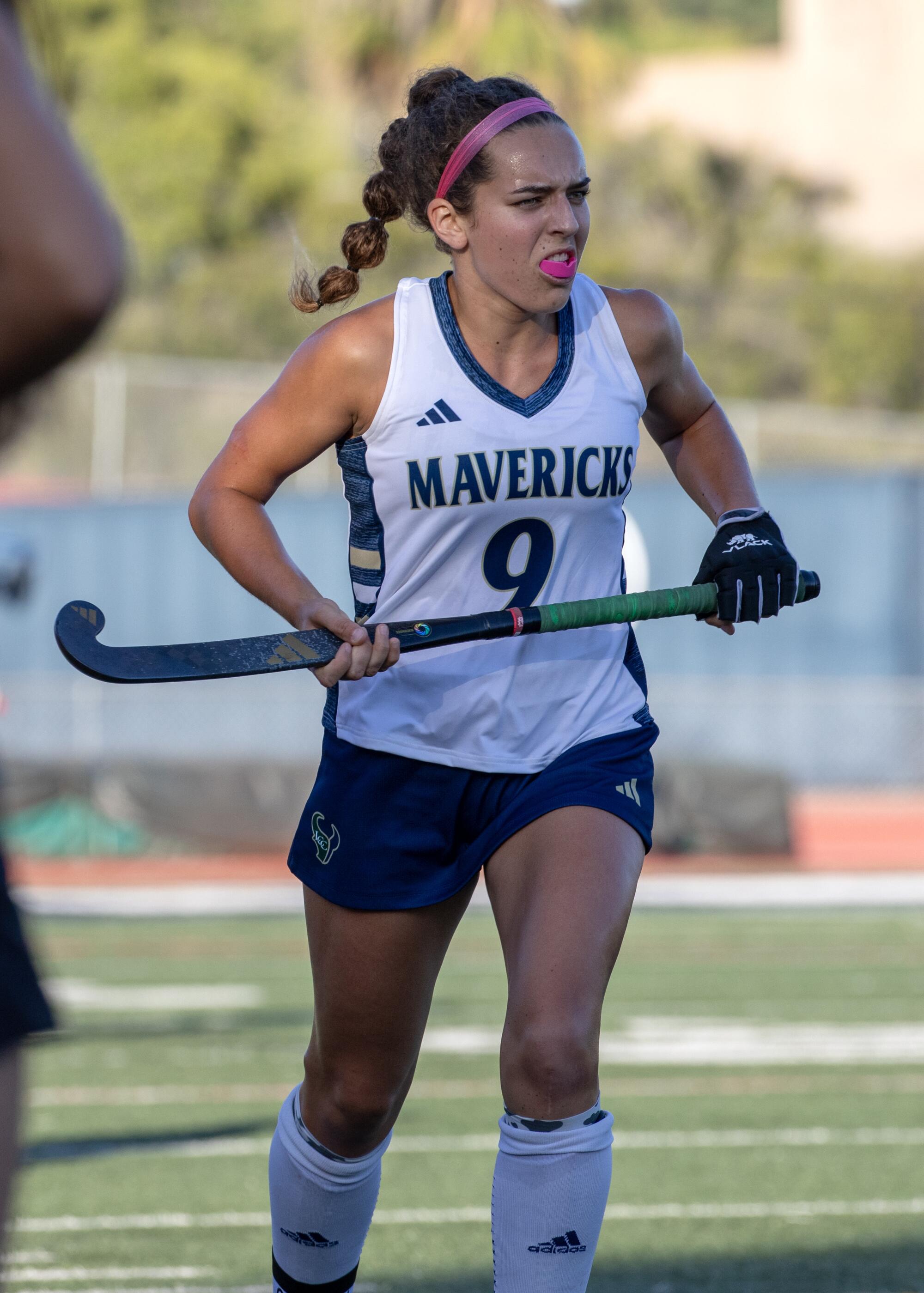 That close bond with her parents and grandparents became especially important when, after playing just seven games as a freshman because of COVID-19, Mia tore her left ACL playing soccer, a sport she has dropped.
Recovery was extremely slow.
"I learned what I'm truly capable of, what my body can do," she said. "Control the controllable, that's what I learned. Little wins every day became huge and gave me more appreciation for the big wins. My first big win was walking. Seven months post-op, it was run and finish. Then I was able to switch directions.
"Finally, I was able to take the brace off and the big test was running a 5K. My mom told me to walk whenever I wanted but I didn't want to walk. The first game I played, I admit I was nervous, but once I started, I exceeded all my expectations."
Mia DiGiulio worked with both her mom and grandmother, who successfully battled leukemia at the same time Mia was rehabbing.
"What makes her special is her tenacity," said Kari DiGiulio. "She refuses to give up on a play or on her teammates."
Fully healed, Mia DiGiulio earned all-league and All-CIF first-team honors last season.
In addition to her on-field activities, Mia was junior class president, then was elected the ASB president for 2023. She plays quarterback for her dad, is involved in Best Pals — a program that encourages greater involvement of students with special needs — and is a member of the CIF Advisory Board for the North County Conference. In that role, she helped lead a student summit.
"There were leadership meetings where we discussed everything from ice-breakers to getting more involved to sportsmanship," she said, "You get to see things through a different lens."
Sign up for the Encinitas Advocate newsletter
Top stories from Encinitas every Friday for free.
You may occasionally receive promotional content from the Encinitas Advocate.